Page 1 Transcriptions

Page 2 Transcriptions
AMONG THE THREE CULTIVATORS OF THE SAINT REALM , I'M THE MOST SPIRITUALLY SENSITIVE . SO , I ALREADY NOTICED BEFORE EVERYONE ELSE . I EXHAUSTED SOME OF MY POWER TO ATTEMPT ANCIENT DIVINATION MAGIC , BUT THERE HASN'T BEEN ANY CHANGES . SO , YOU'RE UNWILLING TO LET ME RISK MY LIFE BECAUSE YOUR BODY IS DETERIORATING ?

Page 3 Transcriptions
ALL OF THE SECT'S LEGACIES ARE KEPT HERE . I'VE PREPARED ALL THE ELIXIRS AND MARTIAL ARTS TECHNIQUES NEEDED FOR BOTH OF YOUR FUTURE CULTIVATION PROGRESS .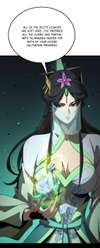 Page 4 Transcriptions
YOUR ELDEST SENIOR MARTIAL BROTHER IS A MONSTER , QIN XIAOLOU HASN'T UNLEASHED HIS FULL POTENTIAL YET , AND XIUXIU IS STILL YOUNG . IF I'M GONE , YOU'LL HAVE TO BE THE CORNERSTONE OF FLOWER SECT .

Page 5 Transcriptions