Page 1 Transcriptions
CHAPTER 9 NIGHT OF SECRETS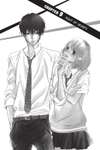 Page 2 Transcriptions
AHEM ... SUMMER BREAK BEGINS TOMOR ROW , FIRST TERM ( ČLOSING ASSEMBLY REMEMBER THAT YOU REPRESENT OUR SCHOOL ... 2651 ... AND HAVE A PRODUCTIVE SUMMER VACATION , -4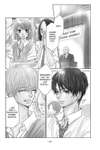 Page 3 Transcriptions
CHATTER BINS CHATTER Bons YU . BY YOUR STANDARDS MEIKO , MY GRADES SUCK . HOW'D YOU DO ON YOUR REPORT CARD ? LOOK ! I WENT UP TO BALL THREES ! I dropped down to eights . Huh ? But out of ten that's uh . 1 - D REPORT CARD When I get home , I'm going straight to the poo 10 SANCE CHARACTERS DEFYING KUROSAKI - KUN THE STORY SO FAR .. Yu has worked hard to reinvent herself for high school . She ends up moving into the School dorm , where her idol , the " White Prince " Shirakawa - kun , boards ... but unluckily for her , " Black Devil " Kurosaki - kun , the most feared boy in school , lives there , too ! Kurosaki - kun happens to be the deputy dorm leader , and when Yu defies him , not only does he steal her first kiss as punishment , he demands her absolute obedience , too . After t HARUTO trouble . So which is the real Kurosaki - kun ?! When Yu feels like both her mind and KUROSAKT body are about to fall under his control , she cuts her hair to show she's serious Formerly the Black Devil . about spurning him . She's made up her mind to have a nice , peaceful life from now Punishes sassy Yu over on - one free of Kurosaki - kun . She's even started a part - time and over again ! job to pay back Shirakawa - kun for the outfit he gave TAKUMI YU AKABANE WHEN YU her , and plans to tell him her feelings after that . SHIRAKAWA Our heroine . She CUT OFF HIS But just when Yu has found her resolve , her The White Prince . was a plain Jane PONYTAILA friend Meiko - chan confesses that she's fallen All the girls idolize school up through middle for Kurosaki - kun ... ? ! him . Kurosaki - kun's best friend . He's interested in Yu ?! A HUNK WAS REVEALED ! NOW HE'S THE BLACK PRINCE !!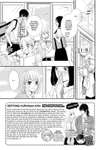 Page 4 Transcriptions
HUFF HUFF BUT THE BLACK PRINCE IS SO NICE . HE'S SO DREAMY . ♡ HE SAVED US FROM DROWNING , DIDN'T HE I KEEP TRYING TO TELL YOU ... And he tutored us , too ! ... IF YOU FALL FOR THAT DEVIL , YOU'LL REGRET IT !! DON'T YOU THINK SO TOO , YU ? VUUGH c LOOK , YOU JUST CAN'T ! I MEAN ... WHAT ? DOES THAT MEAN ... YOU LIKE HIM , TOO ? SURE , HE'S HAD HIS NICE MOMENTS , BUT ... I can't tell her about all the horrible things he's done to me !