Page 1 Transcriptions
DAWEI , WHY IS YOUR MEDICINAL BATH SO SCARY ?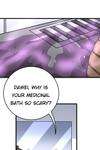 Page 2 Transcriptions
12 ST SCARY IS THE CORRECT TERM . THE BATH IS CALLED A POISON POOL .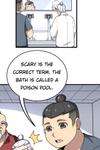 Page 3 Transcriptions
Je THERE ARE SEVEN KINDS OF VENOM AND TWO KINDS OF POISON .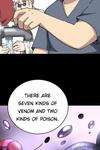 Page 4 Transcriptions
m ANY ONE OF THEM ALONE COULD EASILY KILL A PERSON . H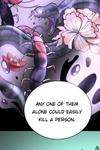 Page 5 Transcriptions
H THAT'S WHY I PUT SEVERAL HERBS INSIDE IT TO NEUTRALIZE THE POISON AND BRING OUT THE BENEFICIAL COMPONENTS IN THE POISON .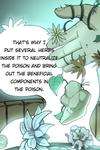 Page 6 Transcriptions
FOR EXAMPLE , THERE'S AN INGREDIENT IN MUGWORT THAT , WHEN HEATED , CAN NEUTRALIZE 30 % OF SNAKE VENOM . l C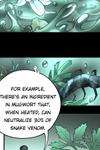 Page 7 Transcriptions
IT CAN ALSO NEUTRALIZE THE TOXICITY OF BLACK WIDOW AND SCORPION POISON . I ALSO PUT JI YANG GRASS AND ROOTLESS FLOWERS , INSIDE .