Page 1 Transcriptions
THREE DAYS LATER , JUN XUANXIAO FINALLY CLAIMED HIMSELF AS AN EMPEROR . AND CHANGED THE TITLE OF THE DYNASTY TO " JING " .
Page 2 Transcriptions
ALL THE OFFICIALS CAME TO CONGRATULATE THE NEW " EMPEROR XUAN " ... ... WHOSE THE FOUNDER OF JING EMPIRE .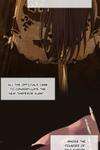 Page 3 Transcriptions
... WHOSE THE FOUNDER OF JING EMPIRE . HOWEVER , THE FIRST ANNOUNCEMENT MADE BY HIM SHOCKED THE WHOLE COUNTRY .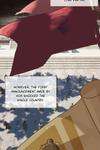 Page 4 Transcriptions
THE HAREM WAS DISMISSED . SHEN YL WOULD BE THE ONLY EMPEROR CONSORT . THE OFFICIALS WERE STRONGLY AGAINST THE DECISION BECAUSE IT WAS AGAINST THE TRADITIONS ...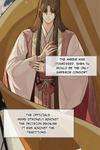 Page 5 Transcriptions
YOUR MAJESTY ! THERE IS NOT A SINGLE EMPEROR IN HISTORY WHO HAD A MALE CONSORT ! AS THE FOUNDER OF JING EMPIRE . IF YOU FAVOR ONLY ONE MALE , EVEN THOUGH YOU ARE A WISE EMPEROR ,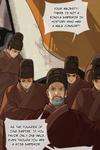 Page 6 Transcriptions
THAT WOULD REMAIN A STAIN ON YOUR NAME IN THE HISTORY BOOKS ! PLEASE THINK TWICE !