Page 1 Transcriptions
COMMANDER OF THE NORTH GOT FRUSTRATED BY SHEN YU AND WENT BACK TO THE PALACE TO FIND HIMSELF ALSO IN TROUBLE IN TERMS OF STATE AFFAIRS . 3Rf ALTHOUGH HE HAS OVERTHROWN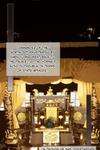 Page 2 Transcriptions
ALTHOUGH HE HAS OVERTHROWN EMPEROR YE , HE HASN'T YET CLAIMED HIMSELF AS THE NEW EMPEROR OR CHANGED THE TITLE OF THE DYNASTY , AIMING TO SECRETLY DESTROY ALL THE REMAINING CONFEDERATES OF THE FORMER KING . BUT DURING THIS PERIOD THE NEIGHBORING COUNTRIES ARE ALL BUSILY PREPARING TO START A WAR .
Page 3 Transcriptions
THE ALLIES ARE CASTING THEIR GREEDY EYES ON THE LANDS OF DAJING EMPIRE ... ESPECIALLY THE HUNS IN THE NORTH . THEY HAVE EVEN BECOME ALLIES WITH THE SUDDENLY FAST - DEVELOPING ZHUO YUE .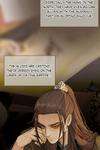 Page 4 Transcriptions
YET , UNEXPECTEDLY , MU YA , THE STATE COUNSELOR WHO MADE ZHUO YUE PROSPEROUS AND BROUGHT ABOUT THE COOPERATION BETWEEN THE TWO COUNTRIES ,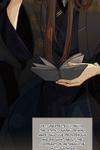 Page 5 Transcriptions
TWO COUNTRIES , JE Etat SID CAME TO THE CAPITAL AND ASKED SEVERAL TIMES TO MEET WITH THE COMMANDER OF THE NORTH ...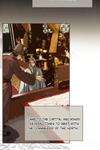 Page 6 Transcriptions
اک CAME TO THE CAPITAL AND ASKED SEVERAL TIMES TO MEET WITH THE COMMANDER OF THE NORTH ... BPIMO YUE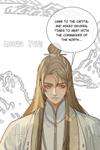 Page 7 Transcriptions
( 4 )