Page 1 Transcriptions
Localization produced by INKR The W and the Hedgehog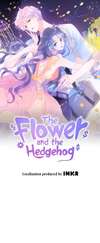 Page 2 Transcriptions
Commotion... Didn't you say you'd let us use this room? Class is over. Go and practice in another room. No please...I want to see. They are out.

Page 3 Transcriptions
Manman, I'll be in my office at the end of the hallway prepping for my classes until late. When you guys are finished, remember to tell me to lock the door. Okay. Thank you, Teacher Shi! Just a reminder that the room is equipped with surveillance cameras. Do. not. do.bad. things. He did it on purpose! It won't happen! Bang! Are you familiar with this teacher? I'm not familiar with him. I met him when borrowing the room.

Page 4 Transcriptions
I assumed he knew you well since he called you "Manman." Oh. Everyone calls me Manman. You can call me Manman too! Go ahead and say it! Don't be shy! I'm here. There's only the two of us here... manman.