Page 1 Transcriptions
Localization produced by INKR The W and the Hedgehog
Page 2 Transcriptions
Bring the princess over here, waiter. Okay. Did she say those words while being drunk...

Page 3 Transcriptions
or being awake? snatches

Page 4 Transcriptions
Is she asking for my help? Halts everyone, I'm off the clock now. If necessary, I'm willing to accompany you and bring this lady back.

Page 5 Transcriptions
All right~ How much will we have to pay you? Anyway, we're heading in the same direction. I'll call someone to come and pick you up right now. Tina...

Page 6 Transcriptions
Hold her steady. raise both of your hands and keep them away from her. There's a surveillance camera in the car.

Page 7 Transcriptions
Pokes fumbles... ? fumbling around... what is she doing? plucks off!

Page 8 Transcriptions
Sure enough, she's awake.

Page 9 Transcriptions
Huh? Where is this?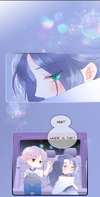 Page 10 Transcriptions
Are you awake? We're almost reaching your school. School? No way! Dad will know if you get there! Eh? Mr. Unicorn, why are you here too?

Page 11 Transcriptions
Tina, you're far too gorgeous... and stunning. But the students of my school just wear simple clothes. I have to cover my dress before I return... And I did drink a little too much... Mr. Unicorn appears to wear simple clothes. Why don't you let him walk me in? Mr. Unicorn will then leave on his own? Fine.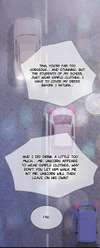 Page 12 Transcriptions
Thank you, Tina. I'll have to bother you to accompany me to the school's entrance. Is it okay if you wait and leave after I confirm you that I get back to the dorm safely? Of course. Mr. Unicorn,we don't know each other so don't come too close to me. Okay. Be careful! Who is this mysterious friend of yours? You've got this far to bring her back here.

Page 13 Transcriptions
It's not necessary for you to know who she. Whew...

Page 14 Transcriptions
thud! ! Whew...

Page 15 Transcriptions
...

Page 16 Transcriptions
You dropped it purposely? Yes. That way,we can have a conversation even if we don't know each other. ...

Page 17 Transcriptions
I want to apologize to you for all the things my friends said and did today.

Page 18 Transcriptions
why are you apologizing for what you didn't do? Also, it's not big deal. I'm aware of the challenges I'll face when working in that environment.

Page 19 Transcriptions
All of it... is not big deal? He's aware of such situations he's going to face with? ...

Page 20 Transcriptions
She's dumbfounded. Is that difficult for this young lady to understand? By the way, do you know that you'll fall asleep suddenly when you drink too much? Although your friends are there, it's still dangerous... I was just acting.

Page 21 Transcriptions
I've spent a lotof time practicing my acting skills in order to get away from gatherings. Until today,no one has noticed. Isn't it fantastic? seems like a deja vu. It's 100% effective! Why did you put on a show today?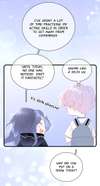 Page 22 Transcriptions
That's because it is already past ten. !

Page 23 Transcriptions
The second thing I want to ask for your help is... I can only be here until ten tonight. After all, I have a class tomorrow morning, and I have to catch the last bus to go back to campus. Okay! I also have a morning lesson tomorrow and must return to the dormitory early. We agreed to it.

Page 24 Transcriptions
Look! We returned quite early, and the school is still lit. Did you ask me to come along to give me a ride? Yes... AlthoughI was concerned that Tina would say something hurtful again. Fortunately, she didn't. Ah! My horn!

Page 25 Transcriptions
You guysdidn't even remind me that I only have one hornon my head! I assumed she was seeking my assistance, but it turned out she was trying to help me. I'll take this one off too. My horn!

Page 26 Transcriptions

Page 27 Transcriptions
Thank you,Hua Manman. He called my name...

Page 28 Transcriptions
It sounds nice. No need to thank me. Xiao Ye! Manman?
Page 29 Transcriptions
Why are you guys together? D*mn it...

Page 30 Transcriptions
快 看 ! Kuaikan Comics