Page 1 Transcriptions
Localization produced by INKR The W and the Hedgehog
Page 2 Transcriptions
What does he mean by that?

Page 3 Transcriptions
He recognizes me! Tap! Since when did you recognize me? ! When you slid off your chair during the opening ceremony. It was too... conspicuous. I was too conspicuous? I slid off the chair just to avoid you! Instead, I'm branded as a fool for trying to hide?

Page 4 Transcriptions
Xiao Ye... My dad asked me not to reveal my true identity at school, so I had to hide from you. You will keepmy secret, right? You're not going to tell everyone whose daughter I am, are you? Pitiful and helpless No tears ... I see. Tidies clothes Instead, I'm branded as a fool for trying to hide?

Page 5 Transcriptions
Okay. Eh? He agreed so easily?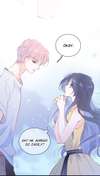 Page 6 Transcriptions
I'll pay you for keeping this a secret. What is your WeChat ID? There's no need to pay me. I'll keep it a secret. My father said if I seek help from someone, I'll have to pay for them.

Page 7 Transcriptions
Those are his rules, and I do not adhere to them. I'm not going to make a big deal over it with you. Though that sounds reasonable, there's an obvious attitude in your tone of voice!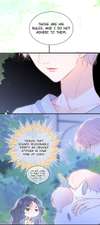 Page 8 Transcriptions
I'll pay you for the phone you broke after dropping it just now. Let's exchange WeChat.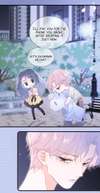 Page 9 Transcriptions
Is she trying to reimburse me or merely exchanging WeChat? I'm able to reimburse him as well as obtain his WeChat. You typed in the wrong address just now, and our school's address is the second. ! Were youtrying to tell me about this? That's why you broke your phone! Please add my WeChat account! Leave the cost of your phone on me! I dropped it myself, and the phone is not broken. I can just get a new phone's screen.

Page 10 Transcriptions
Is it because he doesn't want my money or because he doesn't want to exchange WeChat with me? We can just exchange WeChat Ids. You can look for me if you need assistance in the future because we are classmates. Okay, thank you.

Page 11 Transcriptions
This Silly fairy told Liu Xia and others that she didn't know who I was. I don't know him...I just saw him give a speech at the opening ceremony. Likewise, I didn't have any other opportunities to get know him.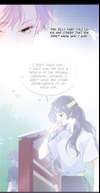 Page 12 Transcriptions
Let's pretendnot to know each other if we meet at school again. ! We'll pretend toknow each other for the first time when the opportunity arises in the future. You won't have to explain how we got to know each other this way.

Page 13 Transcriptions
Wow! You're super smart and considerate! This fool has really forgotten the lies she has told.

Page 14 Transcriptions

Page 15 Transcriptions
I'm still worried. Use yourphone to calla cab first, and then I'll return to work. Open the app now. Okay. The first one is the old campus, and the second one is our new campus. Points Drippy…

Page 16 Transcriptions
Um... Enthusiastic... Don't choose a carpool. Just pick the most expensive one. Handsome guy. Drippy…

Page 17 Transcriptions
Isn't it too hot to wear this in the summer?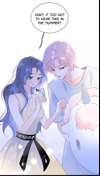 Page 18 Transcriptions
What am I even asking? It's obvious that it's hot! ...He's looking over! ...He looked away! Is this right? Yes. Phew...

Page 19 Transcriptions
You can go over there and wait for your ride. I'll watch you get on. Okay. Thank you, Mr. Unicorn!

Page 20 Transcriptions
Waves his hand in a cool manner See you at school.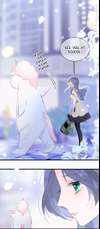 Page 21 Transcriptions
He's a handsome guy with a good heart but a short fuse. Is he a part-time employee at this store? I'm going to assist him in his business.

Page 22 Transcriptions
I completely forgot to scare her into not going to the store! What if she really goes there? So cute! I'll figure it out when the time comes... Sigh...

Page 23 Transcriptions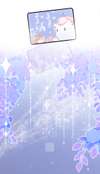 Page 24 Transcriptions
Dessert for everyone! Who shall I go with to Unicorn Dream? Is that really fine? I feel a little bashful to accept it. Thank you for the dessert. Xiao Lizi is a shy and introverted girl. She's not the right person to bring there.

Page 25 Transcriptions
Thank you, Senior sister. I feel bad... I'm on a diet right now, so I'll take two and eat them tomorrow morning. A Ming doesn't have a good attitude toward me. I'm not going to go there with her.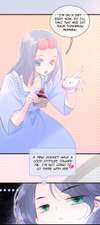 Page 26 Transcriptions
Tina, Tina~ I'll call those who I used to be friends with. I like her a lot, but her boyfriend is the student council president, so it's better to not call her. Senior sister Xixi... Okay. Next time, I'll bring you guys to eat spicy hotpot. Thank you, but I'm not a dessert person. Give Xiao Lizi my portion. Thank you, Senior sister. I feel bad... Contacts

Page 27 Transcriptions
I'll study at the library during the day tomorrow. I bought some daily necessities today. Ah... Mom is asleep. Good evening, Dad! I... almost forgot! Tina Dad (call once a week) Contacts Search

Page 28 Transcriptions

Page 29 Transcriptions
Hey, newbie. Blinding Also, I know how to wash clothes now! Do you know how?

Page 30 Transcriptions
A customer has arrived.

Page 31 Transcriptions
I'm coming.

Page 32 Transcriptions
快 看 ! Kuaikan Comics