Page 1 Transcriptions
Localization produced by INKR The W and the Hedgehog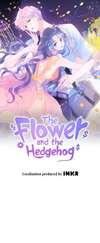 Page 2 Transcriptions
I don't want to borrow his money. You canleave this with me first.

Page 3 Transcriptions
That one isn't even close to 5 thousand. Take this one that's worth over 80 thousand... I don't want to lend you anymore. Daily salary:250 yuan I wrote in my note that you borrowed it. You can pay me back when you have money. ... Um... I was too embarrassed to say it, but my dad answered the call just now. I've used up my allowance this month, and I can't pay you back until next month...

Page 4 Transcriptions
Okay. I'll sell your bag if you don't pay next month. Is that fine? Okay. Okay! It's all up to you. Successful transaction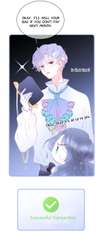 Page 5 Transcriptions
Thank you so much! Do you want togo back to school together? The cost is on me. Otherwise, how are you going to get back? Wow!Thank you! Whew... Successful transaction

Page 6 Transcriptions
Thank you. Nervous

Page 7 Transcriptions
There is 30 yuan in the card. You can take a few more trips. When you return to school, you can register for a student card at the student office fora discount. Okay, thank you. My transpor-tation card. Hehehe. You can enter from here. The door will open automatically if you put the card here. I know! I saw it on TV!

Page 8 Transcriptions
? You'll lose itthis way. I'll keep it and return it when we get out of the station. You're not my assistant. Why are you holding it for me? He stuffed it into his inter-dimensional pockets! Note: Please read episode 9 and 10 for the pants pocket joke. Tap Tap Tap...

Page 9 Transcriptions
Uh...? Hua Manman, do you need a personal life assistant?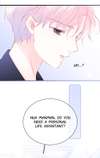 Page 10 Transcriptions
To help you adapt to university life. If it's you, I need one! You turned me down when I wanted to hire you as my tutor just now. Now, you're offering yourself to be my personal life assistant? What exactly is your criteria?

Page 11 Transcriptions
It's me.I want a basic salary of three thousand yuan. Is that fine? Okay. It's too little. I want to give you more.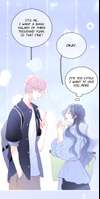 Page 12 Transcriptions
I wasn't sure how I'm going to survive the rest of the month. But now, I have a peace of mind now. The tram is coming. Boss, please hold on.

Page 13 Transcriptions
bag strap Boss,please get in the tram. It's different from what i imagined... The way she sees herself The way she sees her assistant ...Don't call me boss! Okay.

Page 14 Transcriptions
This isn't bad.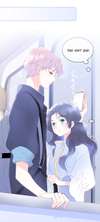 Page 15 Transcriptions
Keep your grip on the railing. The tram will shake. Okay. Why is she in this position? Isn't it uncomfortable? She can simply switch her hands... Shake!

Page 16 Transcriptions
Shake!

Page 17 Transcriptions
! ... There are a lot of people at this time of the day... so it's very crowded. Okay... ? Shake!
Page 18 Transcriptions
I know youbumped into me accidentally. You don't have to deliberately explain yourself! There arefewer peopleat the starting station, which is the school. Yes! So you can be bashful as well? How adorable!

Page 19 Transcriptions
Silence...

Page 20 Transcriptions
... He's so tall.

Page 21 Transcriptions

Page 22 Transcriptions
I can't see anything. ? I can see now. ! That is... Xiao Ye, there's a...

Page 23 Transcriptions
pervert over there!

Page 24 Transcriptions
Excuse me. Excuse me.

Page 25 Transcriptions
! ! Scram. He's so...

Page 26 Transcriptions
Cool!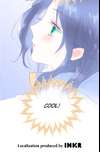 Page 27 Transcriptions
快 看 ! Kuaikan Comics