Page 1 Transcriptions
Localization produced by INKR The W and the Hedgehog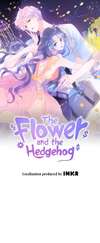 Page 2 Transcriptions
She dropped her phone just now.I picked it up and returned it to her. Yes, the screen isn't broken! ... He switched from picking up a shoe to picking up the phone. That's because picking up a shoe seems strange, right? How meticulous in details he is! President, Senior sister, you guys are still taking a walk together at this late hour. I'm not going to bother you guys any longer. Bye. ? ? !

Page 3 Transcriptions

Page 4 Transcriptions
Is that all? Isaw you two walking and chatting together. What were you guys talking about, Hua Manman? He left like this... And he let me continue making up stories alone? I'll have to remember what I said last time about Xiao Ye! I was just thanking him for helping me pick up my phone... and congratulating him on his commencement speech. That's all... Is that all? Yes! THat's all! Disappointed... He isn't a cute unicorn! He's a bully!

Page 5 Transcriptions
lits up Xiao Ye I'd like to return your bag that I took last time. Let's meet somewhere off-campus.

Page 6 Transcriptions
Bag? Ah...that?I've forgotten about it... *Note: Read episode 1 for details.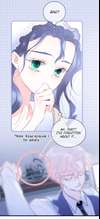 Page 7 Transcriptions
Let's meet at noon. I'll be eating off campus at a restaurant. There are not many people there Let's meet at noon. I'll be eating off campus at a restaurant. There are not many people there We can also eat together Bang! Bang! Hua Manman! Why did you shut the bathroom door again? Everyone wants to wash up in the morning! Bang! Sorry... a hotpot ch

Page 8 Transcriptions
Ah! I sent it! Just closethe toilet door if you want to do poo-poo. Oh... I'll get up half an hour earlier to wash up in the future. Send me the address !

Page 9 Transcriptions
Uh oh, there it goes.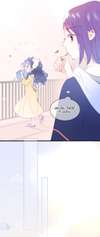 Page 10 Transcriptions
This store is located in a very secluded area.

Page 11 Transcriptions
You're here too? You came too! There are no customers.

Page 12 Transcriptions
Xiao Ye, I'm here! Sorry, I forgot to return it to you that time. Later, I found out it was a very expensive bag, so I thought I'd return it.

Page 13 Transcriptions
Sit down! I'll treat you to a meal. It's fine. You can treat me next time. I can't afford. I'll just... You can showme how to use the meal card if you like. I haven't figured out how to use it yet.

Page 14 Transcriptions
That's a lie.You simply do not wish to eat in the school cafeteria. ...Hmph. In this case, I'll use my killer move...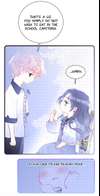 Page 15 Transcriptions
I just wanted to eat with somebody. Cutesy tone I'm serious. Eyes full of expectation I'm not lying. ... Eyes full of expectation...

Page 16 Transcriptions
thank you for your invitation. At this time, outside the restaurant- Shall we go in? It's super expensive though... It must behighly priced to keep the majority of people away.

Page 17 Transcriptions
Page 18 Transcriptions
Do you want to go in? Mm... Do you come here frequently to eat? Which one is the most delicious? Everything is delicious. I order set meal one most often because it includes my favorite cheese, spiced beef, and grilled vegetables. There's also this drink, which has been my favorite since my childhood. ... Is this a cafeteria designed specificallyfor you? ?

Page 19 Transcriptions
?

Page 20 Transcriptions
The interiordesign is brand new. There are no other customers, despite the fact that itis mealtime. These are all your favorite dishes. I guess your father set up this restaurant for you? It must be nice to have money. Xiao Ye, Do you hate rich people? Menu Yuan Yuan

Page 21 Transcriptions
The only rich person I know is you. Are you asking if I hate you? !

Page 22 Transcriptions

Page 23 Transcriptions
快 看 ! Kuaikan Comics