Page 1 Transcriptions
Localization produced by INKR The W and the Hedgehog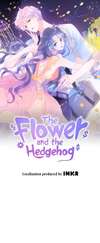 Page 2 Transcriptions
Well... That's not what I mean... But I'd also like to know... Do I still treat him to a meal if he says he despise me? I don't hate you. Exactly! I'm this good, so of course he won't dislike me.

Page 3 Transcriptions
silly fairy...

Page 4 Transcriptions
She's not like the rich young lady I had imagined. Thank you, miss. THis handsome fellow... looks good while eating too. Suddenly, I grasped the feelings of an ancient emperor's... What else do you want to eat? I'll give all to you~

Page 5 Transcriptions
...Hold on!It's impolite to let my imagination run wild iN front of this handsomein person! Let's talk about common things. What else do you want to eat? I'll give all to you~

Page 6 Transcriptions
Thank you for the hospitality. I'll treatyou to dinner, is it okay? Let me take you to eat delicious food in the city. All right! I'm looking forward to it.

Page 7 Transcriptions
ALl right! I'm looking forwardto it.

Page 8 Transcriptions
You haven't eaten in the school cafeteria yet, have you? Does the cafeteria sound okay to you? Yes. He is trying to show me how to use my meal card after I told him that I didn't know how to do so. He's both handsome and kind. I'd like to witness your reaction to eating in the school cafeteria, which is famous for its unpalatable food. Bad guy!

Page 9 Transcriptions
It's unpalatable food... I'll have one class this afternoon so I'm going back to get ready. We should go out separately, so as not to be seen by others. Okay. I'll see you at school at 6 p.m. See you later. Xiao Ye walked out alone. Where's Manman? Manman at this moment- If I eat in the cafeteria with Xiao Ye,

Page 10 Transcriptions
We'll be seen by many people. They will misunderstand- "Are they dating?" Heh... nation Imagi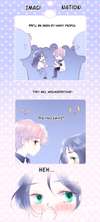 Page 11 Transcriptions
I'll explain like this if I meet someone I know- We became friends after he picked up my phone, and we got to know each other well. I'll go! I'll definitely go! tap! I'll just eat less if it's unpala-table! Then, we'll get to be friends openly in school! school road Commotion Manman, are you waiting for someone? Xiao Lizi! Yes!

Page 12 Transcriptions
Is he here? Nope. Hua Manman. Ba-dump

Page 13 Transcriptions
Xiao Ye! This is for you. ?

Page 14 Transcriptions
You're in luck since you've got two of the best dishes today. Take it backto your dormitory. They won't be good if they get cold. ...? ? ?

Page 15 Transcriptions
...Aren't we eating inside together? The other students will be curious when seeing us eating together. Teach... mehow to use the meal card... You cantry the school food first before deciding whether or not to use your meal card. You're not wrong, but... Oh right,you probably don't have any utensils. I took a pair of disposable chopsticks for you. Inserts Whoosh

Page 16 Transcriptions
I treated you to a meal in a place with drinks... and a place to sit... ? Sorry. I forgot to take the drink out. Whoosh

Page 17 Transcriptions
...place to sit! Sniff... Treating someone to a meal is eating together! It's dining together! Idiot! Idiot! Follow me. Hmph! Come to my exclusive restaurant.

Page 18 Transcriptions
...? His exclusive restaurant... Is this the exclusive restaurant for the mosquitos? Did he brought me here to give the mosquitos extra food?

Page 19 Transcriptions

Page 20 Transcriptions
快 看 ! Kuaikan Comics