Page 1 Transcriptions
Watch Out for the Dream Demon YOUR DREAM IS DELICIOUS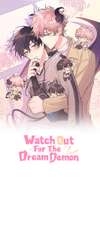 Page 2 Transcriptions
Although it must be strange to say, but... If you want to stop your declining physical health, the easiest solution is... to stay away from Yi Kui.

Page 3 Transcriptions
...? to Stay away from Yi Kui? Why? Are you doubting me? Don't underestimate me, I'm very professional when it comes to this. That's everything I saw from the crystal ball. It's all true.

Page 4 Transcriptions
If you don't pay attention, your health will quickly return to what it was two years ago, or even worse...