Page 1 Transcriptions
Watch Out For The Dream Demon Side Story !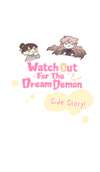 Page 2 Transcriptions
RECENTLY I WAS KIDNAPPED BY A DEMON ! I'LL BUY THESE TWO . BUT THIS DOESN'T SEEM LIKE THE KIDNAPPING I IMAGINED . THEN YOU MUST STAY HERE . YOU HAVE BEEN CURSED BY ME , I WILL ONLY REMOVE THE CURSE AFTER YOU HEAL ME . AFTER YI KUI - THE CURSE DEMON FORCIBLY MADE ME STAY ... S

Page 3 Transcriptions
HE GIVES ME DELICIOUS FOOD EVERY DAY . EAT THEM . IF YOU DIE OF HUNGER , THERE WILL BE NO ONE LEFT TO TREAT ME . AND TAKES ME EVERYWHERE . I SUDDENLY WANT TO GO FOR A WALK . DON'T EVEN THINK ABOUT RUNNING AWAY .