Page 1 Transcriptions
DING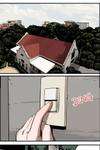 Page 2 Transcriptions
I'M COMING ~ HELLO .

Page 3 Transcriptions
HELLO , WE ARE FROM THE COMMUNITY COMMITTEE A RESIDENT HAS COMPLAINED THAT THERE ARE OFTEN STRANGE NOISES HERE AT NIGHT .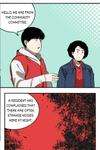 Page 4 Transcriptions
IT ALWAYS HAPPENS AT MIDNIGHT , WHICH IS HORRIBLE . WE CAME HERE TO INVESTIGATE IT .

Page 5 Transcriptions
I SEE . IT'S FROM STRAY CATS . THERE ARE A LOT WILD CATS ? OF WILD CATS IN MY BACKYARD AT NIGHT RECENTLY .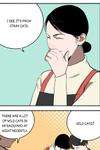 Page 6 Transcriptions
YES , WE'RE WORKING ON IT . OK . CALL US IF YOU NEED ANY HELP .