Page 1 Transcriptions
SINCE ANCIENT TIMES , JADE HAS BEEN USED TO WARD OFF EVIL SPIRITS . BUT THERE IS AN EVIL JADE THAT WILL BRING DISASTERS . ITS NAME IS :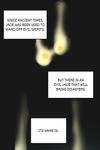 Page 2 Transcriptions
RAKSAS EYE IT IS SAID THAT IT WAS THE EYE OF A DEMON . IT IS SO STRANGE THAT PEOPLE REGARD IT AS EVIL .

Page 3 Transcriptions
THE IGNORANT PEOPLE BELIEVED THAT IT WAS HER WORDS THAT BROUGHT DISASTER . THE VILLAGERS ARE UNITED ...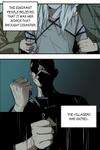 Page 4 Transcriptions
ELIMINATE THE EVIL . AHHHHH ! !

Page 5 Transcriptions
RAKSHA'S EYE TURNED TO JADE SOON AFTER IT WAS REMOVED . IT WAS PLACED IN A WALNUT BOX WHICH CAN WARD OFF EVIL . THEY WARNED THE WORLD ...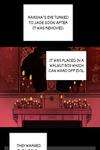 Page 6 Transcriptions
THEY WARNED THE WORLD ... NEVER OPEN IT ...

Page 7 Transcriptions
OR ... THE EVIL .