Page 1 Transcriptions
RUSTLE putt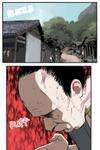 Page 2 Transcriptions
I FEEL TERRIBLE ... ARE YOU LRIGHT ? DRINK SOME WATER . 3

Page 3 Transcriptions
RUSTLE GOOD MORNING .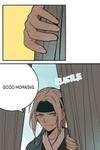 Page 4 Transcriptions
I'M NOT GOOD AT ALL . I HAVE BEEN VOMITING FOR TWO DAYS . VOMIT ONCE A DAY , AND YOU WILL HAVE FEWER HEALTH WORRIES . YOU HAVE TO CONTINUE TO DRINK THE WATER OF CHARM .

Page 5 Transcriptions
GENERAL , WHAT'S GOING ON ? WHY DID I ... 5 WHY DID ALL THE PEOPLE IN THE VILLAGE VOMIT THIS KIND OF INSECT ?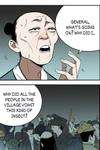 Page 6 Transcriptions
DID YOU FEEL REFRESHED ? YES . I WAS DISTRACTED ALL DAY LONG BEFORE .