Page 1 Transcriptions
sos ! MY LOVE HAS A BUG STORY AND ART BY : TU JIE ZI / COMICLOFT PRODUCED BY : KUAIKAN COMICS TRANSLATED BY : LAN - BRIDGE GROUP

Page 2 Transcriptions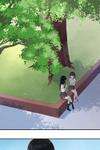 Page 3 Transcriptions
HE - HE ... ERM ... YOUR NOSE ... IT DOESN'T APPEAR TO BE LIKE ANY ORDINARY INJURY . DRATS !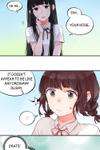 Page 4 Transcriptions
HAS SHE NOTICED THAT I'VE INJURED BY A VENOMOUS INSECT ? IF SHE FINDS OUT ABOUT MY MOM'S IDENTITY , WOULD SHE THINK THAT I'M IN LEAGUE WITH HER ? WHAT IF SHE KEPT BOTHERING ME AND THREATEN TO REVEAL MY SECRET ? IF MY MOM'S IDENTITY BECOMES PUBLIC KNOWLEDGE ... NO WAY ! I CAN'T LET IT HAPPEN ! HAHA ! ! MY NOSE WAS JUST BITTEN BY AN ORIGINAL BUG !