Page 1 Transcriptions
This Stray Cat • Ain't Straight Localization produced by INKR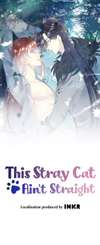 Page 2 Transcriptions
I'll be taking my leave then! No need to see me off! ??? ...... See you! BAM! ...... He was so determined to take back Nuo Nuo just now... TapTapTap Why did he suddenly leave in such a hurry?

Page 3 Transcriptions
I keep feeling that there was something strange about the way that person was behaving. Contact information: Sigh Also, because of the issue with the livestreaming platform right now, I can't give NuoNuo the best possible life... ...Maybe it was better off to leave NuoNuo with his original owner after all... 157xxxxxxxx Chen Yi - I can't do anything about it even if he were to take NuoNuo by force...