Page 1 Transcriptions
This Stray Cat • Ain't Straight Localization produced by INKR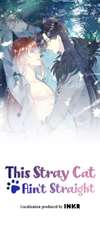 Page 2 Transcriptions
Jiang Jiang~ Homemade cat love meal Cauliflower Carrot Boiled chicken breast Crushed egg yolk Balanced in nutrition I bought you so many delicious foods, and you didn't like any of them, so you have to eat this up. Don't waste, don't be a picky eater, otherwise I'll be angry! Nods Well-behaved ......

Page 3 Transcriptions
It's this kind of food again! He didn't even put salt!! Blech!!! NuoNuo is so obedient and cute! =v=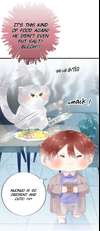 Page 4 Transcriptions
It's almost seven o'clock... Click Power on.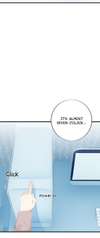 Page 5 Transcriptions
I can't take a break today, otherwise my salary will be deducted. Click click. Live screen I'M BACK !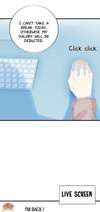 Page 6 Transcriptions
I'M BACK ! -A Green Pomelo Popularity: 50k Followers: 500k He's come! He's online! I almost missed it Connecting... He didn't call it off this time. He's come! I'm coming! Look at the lower left corner, is he going to show his face?? Good evening You You! Where is the streamer? Is it real or fake... It's kinda boring, I'm going now. Ahhhhh. It's starting! He's just started streaming, don't be so impatient. Ahhhhh. It's starting! Setting up Changing settings Turn on the light!! Activity:New Streamer King Selection--

Page 7 Transcriptions
Blurry There's a picture! Ahh. I'm ready to take screenshots. It's actually real... Show your face. Show your face! Pomelo! Ahhhhhhhhhh!! Blurry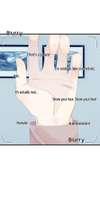 Page 8 Transcriptions
Good evening everyone! Long time no see~ I'm pomelo. I should have streamed a few days before, but because of some personal reasons, I called them off. I'm really sorry that I only just started streaming today... So I have to show my face while broadcasting as a compensation for everyone. Pop up

Page 9 Transcriptions
Ahhhhh! I suck! Are you feeling alright now? Personal reasons... is it petting a cat? So handsome! Aws! Blep. Who are you, handsome? I've waited for so long! Handsome You're over beautifying, it looks so fake. Hmm... I'm all well now. Earnestly replying to the comments... Petting cats? NuoNuo really is super cute... Beautify? Ah... I bought the cheapest camera, it doesn't have a beautifying tool...

Page 10 Transcriptions
Barrage For the people upstairs, shut up if you can't speak. Everyone don't pay attention to him, give Pomelo some more gifts! xxx sent x5 You're over beautifying, it looks so fake. xxx sent x50 xxx sent x100 Does Pomelo really need beautifying with his handsomeness? Where's the housekeeper? Where's the housekeeper? xxx sent x50 Pomelo, ignore the hater! xxx sent xxx sent x5 xxx sent xxx sent xxx sent x10 Ahh... Thanks for the 50 small dried fish sent by Pomelo Mother Fan. xxx sent x2 Thank you Pomelo Fan for the 2 Cat sticks you sent. Thank you 2333 for sending cat food. Everyone should stop sending me gifts now... I won't be able to keep up with the reading... Umm... I joined the Best rookie streamer Selection activity below, For the little cuties who have time please help and vote me, no need to send any more gifts! x10 Thank you xxx for the 50 cat paws... x50 Activity:Best rookie streamer Selection--

Page 11 Transcriptions
I'M BACK! Thank you everyone~ -A Green Pomelo Popularity: 50k Followers: 500k Pfft... Pomelo genuinely thanking people for gifts is so cute! Pfft 2333 2333 please don't send me any more gifts, I can't keep up and read them! I'm going to call my roommate and vote together All you need to do is read some of those valuable ones, no need to recite each one! Lets go! hhh Pomelo Mother Fan's heart is broken worry. hhhhhh. Vote vote vote! This is the first time I've seen someone ask people to vote for them like this. hhhh Ok, I'll listen to you! Poemlo ahhhhh! I will vote if you show your face every day! 2333 Everyone please stop sending me gifts, I can't catch up with reading them! Please go and vote for me instead! Haha! hhh Sand Sculpture Streamer has followed. This year's fans are really the worst request-listening fans." I won't listen, I will send you gifts! 2333 I'll vote! I'll vote! Vote vote vote! Pffft. I boss is confused, stop sending not, let's stop!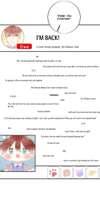 Page 12 Transcriptions
Cough, God Game Login Okay, let's get to the point. Recently a new game was launched, I don't know if any of you guys have played it... Click Click It's quite fun. They have happen to have just released a new edition of the game. Account: 123xxxxxxxx Password: *********

Page 13 Transcriptions
Login was successful Whoosh Today in the stream, I'll be going for the achievements of the first to get through the dungeon with the highest difficulty. Lv 40A Green Pomelo

Page 14 Transcriptions
It should be in here. Ahh... We're here in the Secret Cold Realm.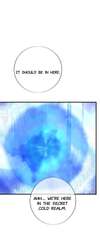 Page 15 Transcriptions
Fwoo It seems that no one has passed it yet. The rewards for achieving it first are so generous. GLows Ah... SO many people.

Page 16 Transcriptions
Challenge solo Ding Ding How come...? Ding Ding Ding Ding Warning Warning,Your level is too low, Entry has failed. Ding Ding Ding

Page 17 Transcriptions
Ding Recommended level: LV. 60 Lv 40 This game must be targeting me! Ding Ding Ah... What rule is that?! They won't even allow me in if I've not got the level required...

Page 18 Transcriptions
The game has been open for so long, he's only Lv 40??? Stop bluffing, ok? He's only LV. 40, and he wants to do Lv. 60's challenge? why is His level is too low ? Stop dreaming! That's it? Aaaahhhhhh ??? How to be the first to pass the challenge You can do it, You You hhhh You You was sanctioned. Pfft. hhh I'm even better at this game than the streamer! ??? Someone like him wants to get the first to pass achievement?! He couldn't even enter a duplicate version! I had some things before, I hadn't logged on for a few days.. so I didn't level up anymore. Who knew there were rules like this... In this case... If I join someone else's team then I should be able to enter the duplicate version...
Page 19 Transcriptions

Page 20 Transcriptions
There are so many teams... Click Cold day secret boundary come 60 j +++++++ Apply Come to grandma come DPS +++ Do not disturb if you're new Apply One third class come DPS speed brush! Lack 1 milk+++ Quick brush come strong DPS+++++++ Click The output that will play in the cold world Apply Come to DPS, the nurse is full Apply Quick brush boss leads a strong team DPS pressed the apply button for every team... Pressed the apply button for every team... Apply Apply Apply Apply The other party rejected you:You want to play a new version with such a low level? The other party rejected you: Please do not disturb if you are new. The other party rejected you:Get out idiot!

Page 21 Transcriptions
Ding DIng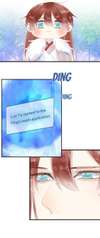 Page 22 Transcriptions
Ah! I'm in! I'm in!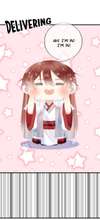 Page 23 Transcriptions
Lv 40 A Green Pomelo Lv. 59 Luo Yu A Jing Lv. 60 Gentle drizzle Lv. 45 Hello— What happened here? Team leader! My character type is already almost a healer, WHy would you let in another healer? Humph. Why did a healer come in...? ...... ...... ...... Hmm? THe application of this person was really strong force output...

Page 24 Transcriptions
What super powerful output? How does the healer output? This dungeon is really hard to beat, will you even be able to play it? Enough, Drizzle, stop talking! ...... humph... We already have a healer on this team, your character type is the same, please back out of our team. Only level 40 and wants to steal all our equipment, how shameless. Sorry, it's our problem I didn't see your level and character type and agreed to let you join our team.
Page 25 Transcriptions
Please give me a chance. Ah—— I know, but I'm not a healer. I'm a damage dealer. Coincidentally, You guys happen to be missing one...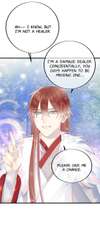 Page 26 Transcriptions
...... Um...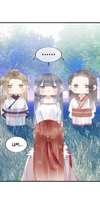 Page 27 Transcriptions
I can really carry you guys through! Please, trust me...