Page 1 Transcriptions
This Stray Cat • Ain't Straight Localization produced by INKR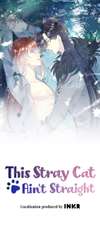 Page 2 Transcriptions
Come on, give me a chance? Ah— I know, but I'm not a healer. I play DPS, and it's just as well that you guys are in need of one.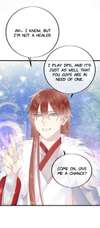 Page 3 Transcriptions
...... Er... A healer playing DPS?

Page 4 Transcriptions
Event Nominees for Most Voted Mojing Popularity: 800k Followers: 990k Livestreaming: Wandering A Green Pomelo Livestreaming: Wandering This person isquite interesting... Helping a cute girl level up in the first play of the new world! Why do I feel like this girl is sketchy? Mojing I almost believed that excuse Everyone hurry and speak nicely Drop some votes for the event, guys! Warrior Priest? A healer playing DPS? This guy wants to ruin the team I've learned How to join a level 60 team as a level 40 Warrior Priest Believe it guys, there really is a healer playing DPS A healer playing DPS? Are you dreaming? Why isn't it starting yet? Hurry and kick him out, Mojing! Hurry and play Don't let him join, he'll be useless for sure Why aren't they playing yet? Help me level up too, host How can a level 40 help a 45 level up? Mojing is so handsome ! Pft haha, is he a warrior priest? Popularity: 450k Followers: 500k Join livestream Join livestream Popularity: 800k Followers: 990K ......

Page 5 Transcriptions
...Of course I'm not kidding you. Mojing, do you really believe that nonsense? A healer playing DPS? What's next, are you gonna use a wand and beat the monster to death? Pfft Exactly... i DON'T NEED A WAND. Bro, are you kidding me? A healer playing DPS is a little far-fetched...

Page 6 Transcriptions

Page 7 Transcriptions
Let me show you, materializes My weapon. ! Whoosh

Page 8 Transcriptions
One obviously wouldn't use a wand to play DPS. I use my one-handed sword. ......

Page 9 Transcriptions
Did you think I wouldn't be able to tell? This is the sword given as a reward for completing the novice tasks! Are you kidding me? You could tell?

Page 10 Transcriptions
Mojing, I actually have seen a healer play DPS before. That hidden player who ranked third on the pvp list was a priest! Huh? Really? Turning around Yes! There was a post that exposed that... This punk seems so full of confidence, should we... You guys aren't really gonna let him join, right? He's only level 40, and the weapon he's using is trash, Well... If he joins us, he'll drag us down for sure, What are you still hesitating for? Hurry and kick him out, captain!

Page 11 Transcriptions

Page 12 Transcriptions
Livestream Helping a cute girl level up in the first play of the new world! Kick him out What warrior priest, he's probably useless Kick him out Turns out the third place on the PVP list is really a priest Hurry up Don't be so mean, guys Why do I find him a little interesting A healer playing DPS... And he still wants the first passage Kick him out Don't let that jerk join, host Hurry and kick him out, big guy Don't let that jerk join Are you guys gonna play or not A level 40 player with a novice weapon wants to join a level 60 team? How can he fight with such a low level? It'll be suspicious if you can get through with two useless players You haven't even played yet, why are you saying others can't? I'm back! A Green Pomelo Followers: 500k This girl is only level 45 but she's giving the cold shoulder to a level 40? I unfollowed hehe Good luck, Pomelo Pomelo, maybe you should give up, you're just gonna take being yelled at like this? Please stop tricking people, okay? This girl is really a piece of work That's enough, you're still not giving up? That girl is kinda overreacting A healer playing DPS? Is this streamer trying to trick people? Is it normal to be roasted for wielding a novice weapon with hopes to join a team? Why do I feel like this person looks a little familiar? This streamer is only level 40 but wants to join a team of level 60's Warrior priest? Someone said that sword is really powerful Just leave the team Wait, they got kicked out You're only level 40 but you want others to help you level up? Use your brains, don't follow people just because they're popular This world is really hard, how can two level 40-somethings beat it? ...... Popularity: 50K That's enough! Stop arguing and trying to stir up a fight, or I'll tell the manager to block everybody. I've never seen a healer play DPS... Since he's so confident, let's see exactly how good he is. Mojing Popularity: 800K Followers: 990K ......

Page 13 Transcriptions
Stop it, Xianxian, let's see how well he fights first and then see. Mojing... Let's let him join. A-alright.

Page 14 Transcriptions
Enter Hidden Realm Clink Tap Clink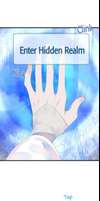 Page 15 Transcriptions
You have entered the Hidden Realm What does he think he's doing, walking ahead of us?! She has sucha bad temper... Tap

Page 16 Transcriptions
Hmph! Ugh... Bump Wait up...
Page 17 Transcriptions
You're going the wrong way. It's not this way... You're the one who came and ruined our team, yet you still have so much to say? Do I need you to tell me where to go? I'm not listening to you.

Page 18 Transcriptions
Click Clack Click Clack !! ROAR?! ...... AAAAAAAAAAAAAAaaaaaaaaaaahHHHHHH!! Air thickens

Page 19 Transcriptions
Page 20 Transcriptions
Time to fight the monster! ROAR!

Page 21 Transcriptions

Page 22 Transcriptions
Swings tail ROAR!

Page 23 Transcriptions
Watch out! Splatter

Page 24 Transcriptions