Page 1 Transcriptions
This Stray Cat • Ain't Straight Localization produced by INKR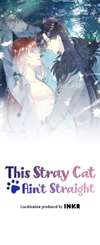 Page 2 Transcriptions
Grab Eh...? When did this photo... How did it get dirty? And who's that person on the side...?

Page 3 Transcriptions
Dirty Why does this not ring a bell at all? Three years ago... Was it when I was about to graduate...? In deep thought... Ding-dong Ding-dong Ding-dong Someone's pressing the doorbell?