Page 1 Transcriptions
MANPACHI ! HA THERE'S NO NEED TO WORRY , KOYUKI . HA X1 GROWL panele # ! CLENCH Chapter 29 DITING WHAT DID YOU DO TO HIM ?! # 1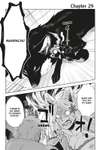 Page 2 Transcriptions
SO I'M HAVING ONE OF MY TRUSTED SERVANTS GO WITH HIM . SEE ? BE SILENT . GRRRR I THOUGHT YOU'D SAY THAT ... SMACK LIFT JUST CALM DOWN . HE DID THE SAME THING TO ME , AND I WAS ABLE TO COME BACK SAFELY ! POOF THAT SOUNDS LIKE SOMETHING WORTH WORRYING ABOUT ! FLOAT I CAN'T TRUST THIS GUY ! I JUST KNOCKED HIS CONSCIOUS NESS OUT OF HIS PHYSI CAL BODY . BAM IT LOOKS LIKE YOU SACRIFICED HIM ! DIIING + = ...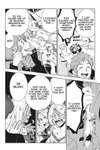 Page 3 Transcriptions
IS THAT WHAT YOU REALLY THINK OF ME ?! BUT ... WHA ... ? ! SINCE I'M YOUR PARTNER , I THINK YOU'RE OBLIGATED TO TELL ME WHY YOU'RE GOING ALONG WITH HIM . HUH ? SCAREDY DOG . TACHIBANA I TRUST THE PEOPLE YOU TRUST , MIKUMO . TCH 式 t CLACK PEOPLE WHO DON'T SHOW UP WHEN IT ACTUALLY MATTERS SHOULDN'T STICK THEIR NOSES IN THINGS AT TIMES LIKE THESE . I'M A LITTLE NERVOUS TOO . YAN I WANT YOU TO GIVE US A GOOD REASON TO TRUST HIM .