Page 1 Transcriptions
SOON , LI SHAOYAN'S WELL - DESIGNED MISERY DRAMA SPREADS THROUGH THE MEDIA AND ATTRACTS BROAD ATTENTION . KUAIKAN NEWSPAPER TANG YU IS IN A COMA , MR . LI IS PROSTRATED . BOOHOO MY YU HAS ALWAYS BEEN A SUREFOOTED ACTOR SINCE HIS DEBUT , BUT PEOPLE KEEP SLANDERING HIM . HE AND MR . LI HAVE FINALLY GOTTEN OUT OF THE HARD DAYS , BUT THEN THEY RAN INTO SOMETHING LIKE THIS ... IS ZHENG X OUT OF HER MIND ?! AGREE +1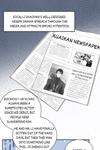 Page 2 Transcriptions
OF HER MIND ?! AGREE +1 D Q AGREE +2 BUT ALL THE NEWS ABOUT TANG YU AND ZHENG XINRAN DISAPPEARED OVERNIGHT . VIDEO ARTICLE ZHENG XINRAN SEARCH PEOPLE ALL COMPANY SCHOOL TAGS ALL AGES ALL GENDERS ALL NICKNAME ALL USERS ALL REGIONS ( CHANGE ) ACCORDING TO RELEVANT REGULATIONS BASED ON THE LAW , THIS TERM IS NOW BANNED FROM SEARCHING .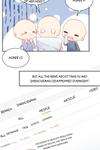 Page 3 Transcriptions
OVERTHROW ZHENG XINRAN !! D EVEN ZHENG XINRAN'S NAME HAS BECOME A BANNED WORD . THIS MOVE INCREASES THE ANGER OF FANS AND THE PUBLIC , THEY START TO DENOUNCE ZHENG XINRAN AND HUATING ENTERTAINMENT TOGETHER .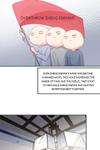 Page 4 Transcriptions
WHO DID THIS ? WHO BLOCKED ALL THE NEWS ? ИМПог