Page 1 Transcriptions
ATLANTIS ATLANTIS TRAP 32 Our Pet Game Is Over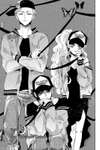 Page 2 Transcriptions
THANK YEW ... FOR FEEDIN TIME , MASTER . I'LL BET FOR YEARS VIN THE FUTURE ... EVEN WHEN YER WITH ANOTHER MAN , THE ONE YER GONNA THINK OF FIRST WHEN YER IN LOVE ... IS ME .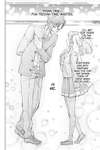 Page 3 Transcriptions
FWOOOSH PHEW ... D I'M STUFFED ! CHATTER CHATTERIT EATIN SIX BOWLS BALLOONED MY BELLY UP LIKE A BEACH BALL ! You really gave it the TWITCH TAIGA ... WANT SOME GUM ? I TOLD YOU WE SHOULDN'T TRY THAT SIXTH RESTAURANT , ANRI ! THIS WAS THE FIRST TIME I'VE EVER EATEN THREE BOWLS OF RAMEN TOO . old college I HAVE NO REGRETS , SO IT'S ALL GOOD !! try too , Rekka sempai . Ananana ! hurting here too .