Page 1 Transcriptions
Localization produced by INKR Torensic Princess Seacan 2
Page 2 Transcriptions
Imperial study room Do you know why I called you here today? I'm afraid I don't, your majesty.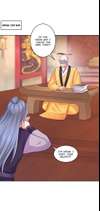 Page 3 Transcriptions
Qinyang is the daughter of an imperial concubine. Father favors her over Yuping. How could she die that suddenly? You've been in charge of Yuping's case for a while now, was the person caught by Yuehai really the murderer? My Qinyang has died.