Page 1 Transcriptions
Localization produced by INKR Torensic Princess Seacan 2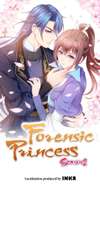 Page 2 Transcriptions
Zhenge department Here's what you need. Do you want to check them? Put down There's no need. Since you bought them, I'm not worried about the quality.
Page 3 Transcriptions
Qin Zhong told me that something happened in the imperial palace last night. What is it? Nod Rong Fei was assassinated.