Page 1 Transcriptions
Wistful Suinmer STORY & ART : MUNZI TRANSLATION : TYPESETTING : JAY KIM RACHEL ORDWAY QUALITY CHECKER : TADAMORI YAGI

Page 2 Transcriptions
EVER SINCE I WAS A KID , I NEVER HAD ANYTHING I PARTICULARLY LIKED .

Page 3 Transcriptions
MY MOM SIGNED ME UP FOR A TAEKWONDO CLASS , BUT I QUIT RIGHT AWAY . THERE WAS NOTHING THAT GRABBED MY ATTENTION AND HELD IT , SO I WAS ALWAYS BORED ... AND I LOST INTEREST IN THE VIOLIN PRETTY QUICKLY EVEN THOUGH I THOUGHT IT WOULD BE COOL . THIS IS DUMB ...

Page 4 Transcriptions
... AND I NEVER TRIED HARD AT ANYTHING EITHER .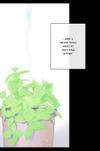 Page 5 Transcriptions
BAA ВАР WHAT'S THAT NOISE ? PEEK