Page 1 Transcriptions
Gu lin, I want to be alone. Ah... Hey, Brother Yuanfeng, When I first saw brother Niannan, he appeared quite irate. I lied to him and told him that Sheng was really unwell, therefore it's all my responsibility. The situation with your brother is not promising, therefore you should find a solution! Ah, why did brother Yuanfeng also do dumb things after being in love... Will those close to Gu Yansheng eventually turn into fools?

Page 2 Transcriptions
Brother Niannan, please hold on. I need to tell you something. Gu lin, I don't have time right now since I have to practice the piano tonight!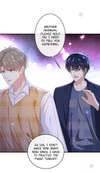 Page 3 Transcriptions
Brother niannan, I Really just want to let you in on a major secret! The gu group is preparing to expel Gu Yansheng! Even though my brother offered to leave gu group on his own, being expelled from Gu group had the same effect as his voluntary departure. The process doesn't matter!