Page 1 Transcriptions
Page 2 Transcriptions
WELCOME TO THE FASHION ICON CEREMONY . TODAY , ON THE RED CARPET , NOT ONLY DO WE HAVE INTERNATIONAL ARTISTS , BUT ALSO NEWLY ARISING STARS . わ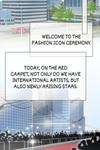 Page 3 Transcriptions
LET'S HOLD OUR BREATH AND WELCOME THE FIRST GROUP OF GUESTS TO THE RED CARPET . THEY ARE- THE POPULAR BOY BAND SO WHITE !!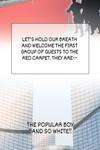 Page 4 Transcriptions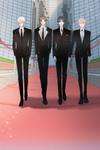 Page 5 Transcriptions
AHH ! SO WHITE I LOVE YOU !! PLEASE , STAND IN THE MIDDLE OF OUR RED CARPET .