Page 1 Transcriptions

Page 2 Transcriptions

Page 3 Transcriptions
tap

Page 4 Transcriptions
hmph the white's path of retreat has been cut off, it's a dead end... for the blacks, it's an easy victory... a game well-played... snap! This subordinate reports, what's my lord's command? is everything needed for the ceremony ready? Yes, it is all ready.

Page 5 Transcriptions
very good... tell your men... Next... it's time to find the sacrifice. as you command.
Page 6 Transcriptions
hmph, without that xianzi he here, there's no one who can obstruct me! the fair wind scroll... shall be mine...

Page 7 Transcriptions
thunk! ugh... it's not this one! This is not it either!

Page 8 Transcriptions
you guys! What do you want?! Let me go! and don't throw my things around! older sister, he woke up. don't mind him, keep searching. sparrow demons, ash magpies they just ignored me like that? ! throws throws We must quickly find the treasure that the benefactor wants,
Page 9 Transcriptions
or else our benefactor won't be able to do what he promised us.

Page 10 Transcriptions
benefactor? it sounds like these little demons are following someone's orders... does that mean someone else knows about the treasure? ! I found it! oh no! This is it! glass bead

Page 11 Transcriptions
the treasure should be shiny... there's no doubt this is the treasure our bene-factor is looking for! that's great! yay, our home is saved! that scared me... so it looks like they don't know what the treasure is...

Page 12 Transcriptions
seal while they're not paying attention to me, I need to quickly free myself and get my things back!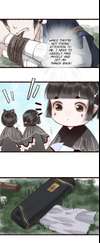 Page 13 Transcriptions
Sniff Sniff blergh!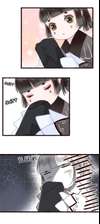 Page 14 Transcriptions
throws! swoosh—— not good!

Page 15 Transcriptions
catch!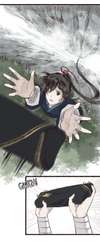 Page 16 Transcriptions
that was close! what a scare... stumble !

Page 17 Transcriptions
It's over, it's over! it looks like I'm done for!! whoosh—— are you alright...

Page 18 Transcriptions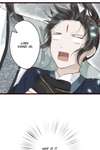 Page 19 Transcriptions

Page 20 Transcriptions
快 看 ! Kuaikan Comics