Page 1 Transcriptions

Page 2 Transcriptions
pause older sister really has a sharp eye, I indeed can't hide anything from you. the person you met is not scheming against you, you can trust him.

Page 3 Transcriptions
w-what do you mean? the mountains and rivers, plants and trees have spiritual awareness. the river stream told me... that you came late today because this and that happened after you met that person.

Page 4 Transcriptions
w-what do you mean by 'this and that'? can you not say something that can be easily misunderstood, alright? if that man really was plotting something against you, then he would have found a way to follow you here. he is willing to wait for you there because he is faithful to you; he must truly have heartfelt words to tell you. are you really not planning on going back and listening to his explanation? However, I still think it's better for me to travel on my own...

Page 5 Transcriptions
it's also dangerous to take your treasure with you while in hiding. if I hadn't found you this time, it would have been the end for you. but what about next time? besides... I can feel that his divine power is extraordinary. if you make him your traveling companion, your journey will be much easier...

Page 6 Transcriptions
older sister might not know this...

Page 7 Transcriptions
divine power is the most dangerous thing... I have an older brother who was blessed with extraordinary talent, and our family had great hopes for him. this task to deliver the treasure should have belonged to him, but after some events, our family decided to entrust the treasure to someone ordinary to avoid suspicion, so the burden was handed to me... Despite the exhaustion of the journey, I haven't been provoked into any quarrels. I fainted this time because of fatigue, not of anything serious. although older sister is right about that person not looking like an ordinary human, no matter what he thinks, for the sake of the treasure in my bag, I shouldn't be involved with him...

Page 8 Transcriptions

Page 9 Transcriptions
I didn't know you were facing such dif-ficulties... the fortune fish... you should take it with you. perhaps it can protect you from misfortune... I don't need it! it's obvious that it's just a trick by that god to fool people, how can a few cheap fish be enough to protect my treasure? Besides, the more things I bring, the more conspicuous it becomes, so forget it.

Page 10 Transcriptions
That being the case, then I won't say anymore. Be careful on the road. picks up older sister, did you know... there was once a prominent family of cultivating immortals that practiced forbidden arts and suffered qi deviation. the entire family was executed. humans all want to reach the summit, but they don't know that they are only inviting trouble when they challenge the limits... So I think it's better to cherish the ordinary days in front of you, don't you think? xianzi bids you farewell.

Page 11 Transcriptions
I'm not necessarily cultivating immortality to reach the top... I just feel... that in the heavens, I have an unfulfilled promise... splash——

Page 12 Transcriptions
swoosh—— bam! I'm so mad! that xianzi he dares to look down on the esteemed fortune god's favor! does he think the esteemed fortune god can't protect that stupid treasure of his!?

Page 13 Transcriptions
fine... I want to take a look at exactly what precious thing he's carrying.

Page 14 Transcriptions
the sky is getting dark, four hours will soon pass... lord xianzi he... should be back soon... approaches

Page 15 Transcriptions
! swoosh—— extinguish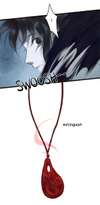 Page 16 Transcriptions
快 看 ! Kuaikan Comics