Page 1 Transcriptions
Those mutated buffaloes are coming at us. Looks like they're used to eating people, and trying to take us for dinner!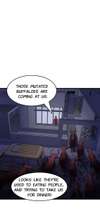 Page 2 Transcriptions
Boss, maybe we can hide in the basement to wait for these mutated buffaloes to withdraw? Humph, now even a few buffaloes can freak you out? Everybody, get ready to fight! Now that everyone's full, it's time to have some battles with these buffaloes!