Page 1 Transcriptions
Daily Special #8 Special edition to celebrate the first anniversary of serialization Battle of the scholars has been serialized for a year! dong One year anniversery dong
Page 2 Transcriptions
It is already our first anniversary of this series. It's all thanks to all the readers! It really wasn't an easy year! one year anniversary I've already shared plenty of my past experiences. so this time, I want to ask how the characters have been.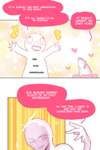 Page 3 Transcriptions
Glasses-kun's interview author: How do you feel about being in this comic? hmm.... it was hard to get used to at first.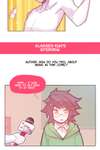 Page 4 Transcriptions
after all, when I was in "The Law of Princess Manga ", My character setting was the cool type, Ruthless and more reserved. and my hair would be like this but here, I'm like an innocent BOY. It wasn't easy to get the hang of it in the beginning, But I think I started to grasp the feeling around Chapter 9.