Page 1 Transcriptions
Self CH07: VS Inflicted BAM Hmm…… ancient writing?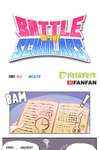 Page 2 Transcriptions
Hmm…… ancient writing? Looks like we can't do this on our own. I don't understand anything…… Let's go, glasses-kun. Where to? Whoosh School. I know a person at school who can interpret this book.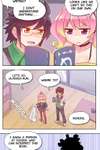 Page 3 Transcriptions
Is the person a student at our school? Yes……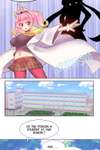 Page 4 Transcriptions
She is called Shizi Mu. She's just like me. the school allows certain students to not attend classes. such as exceptional geniuses. Wow, is she a genius too?! She remember everything, after seeing it once. Exams and studies are a piece of cake for her. However, her character is rather…… is similar to…… a beast? Beast……?! She once secretly finished all the food in the canteen by herself. At the sports festival, she got first place in the race she didn't even sign up for.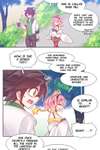 Page 5 Transcriptions
She once secretly finished all the food in the canteen by herself. burp. At the sports festival, she got first place in the race she didn't even sign up for. She also played a prank and plucked the last hair off the bald teacher's head…… finishing line Wow…… She's really quite wild…… In short, she is a person who gave up using her brains…… oo bo oo oo om she is now being punished to sort out old books in the library every day. I guess that puts her ability to good use.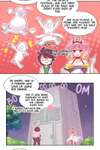 Page 6 Transcriptions
Shizi…… steps Hello~ Where are you? BAM Hello~ Oh my god…… So many books…… Strange…… She was still here last week.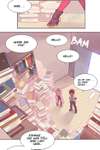 Page 7 Transcriptions
She couldn't have snuck out, right? well, she is a beast. Maybe she hid somewhere to hibernate? Who are you calling a beast? Hahaha If she left, the alarm should sound…… Gaw~! Whoa!! She's here!!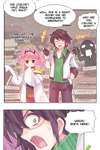 Page 8 Transcriptions
grabs Gonggong!! Who is this rude fellow? Destructive Deathgrip!!! falls Whoaaa my arm! My arm is going to break! Ummm……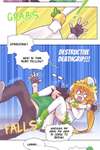 Page 9 Transcriptions
my lab Assistant? Why is that even a question! We've known each other for six chapters! he looks suspicious. say it! why did you approach Gonggong?! Hiya! waaa—— Ahh——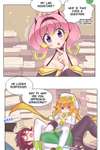 Page 10 Transcriptions
Ahh—— Ouchhh Ouchhh Ouchhh! It hurts so much! Stop it!! Huh……! It's unexpectedly light…… lifted easily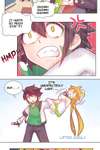 Page 11 Transcriptions
Tch. Don't touch me nilly willy! Ugly guy! bam steps! Rules!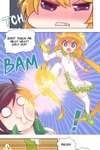 Page 12 Transcriptions
steps! Terrible food! And Ugly guys! These are the things I hate the most! Shizi Genius Beast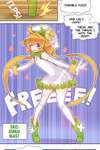 Page 13 Transcriptions
It's better over here! Gonggong! So soft! hugs! *sigh*……you're just so playful Ah, soft and squishy. It's healing my soul. huuu——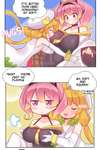 Page 14 Transcriptions
When i couldn't find you i thought you snuck out again. huuu—— There's WIFI and game consoles here, and i can even get food delivered. Whoa…… They made it too comfortable. Why would i leave such a paradise. it's way too relaxed.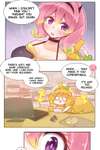 Page 15 Transcriptions
Hold on, Shizi. Staring…… There's still a boy here! waa—— Ha……hahaha, i can see that you guys are really close... No... it's not what you think it is…… I should go... waaa—— what…… Only I am allowed to enjoy my soft and fluffy Gonggong! What's with this flirtatious atmosphere……
Page 16 Transcriptions
What's with this flirtatious atmosphere…… ......annoyed This four-eyed wimpy chicken is the enemy! Actually, I came here today because I wanted to ask Shizi for help. It's about me being possessed by the evil spirit. I finally have a lead. docile.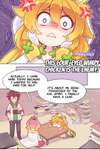 Page 17 Transcriptions
Leave it to me! I will go to the heavens or into the the depths of hell for Gonggong! No, please don't overdo it this time…… You really went to the skies the last time. What?! Is she that amazing? bam! This is the "Book of Immortality", which contains records of how to exorcise evil spirits from one's body. BAM Bam I was hoping Shizi can interpret it. Leave it to me! ppi flipping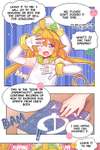 Page 18 Transcriptions
ppi flipping flipping flipping flipping lipping flipping flipping lipping flipping ping flipping flipping flip ipping flipping flipping I'm done. It's all outdated information about traditional Chinese medicine…… such speed! This beast is really capable! It has no value to us whatsover. what——!!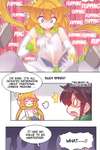 Page 19 Transcriptions
However, this book... ...has many missing pages. Maybe the important content is within the missing pages.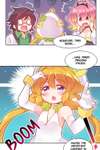 Page 20 Transcriptions
Maybe the important content is within the missing pages. Missing pages… I feel like i've lost my lead again. depressed... back to square one Bam. Not necessarily. there might some hidden information in this book. For example, hidden text that only appears when heated, etc. hehe!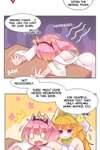 Page 21 Transcriptions
The four-eyed wimpy chicken will help light the candle! My name is Jingjun Yan! Stop making up names! What, isn't it just glasses-kun then? Stu——pid——! Kekekekekeke I totally made up it up. is this OK?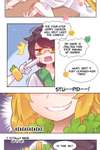 Page 22 Transcriptions
This fire is just to create an accident! an accident to cause this four-eyed weak chicken to destroy the "Book of Immortality"! Whoa——!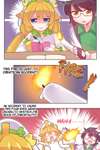 Page 23 Transcriptions
This way, Gonggong will be disappointed by the weak four-eyed wimpy. Wa—— However, it was actually another book that was burned! The real one is over here!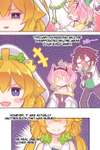 Page 24 Transcriptions
I switched them around when I was flipping the pages at super high speed. I'll name it "It seems to be burned but not burned, just to scare you, suspension bridge effect, doki-doki relationship up Operation"! I rescued the "Book of Immortality" just in the nick of time! Ho ho ho ! Wa——— Stupid idiot, meet your downfall!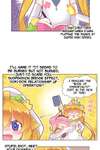 Page 25 Transcriptions
Stupid idiot, meet your downfall! Hot hot hot hot hot hot! You are about to burn my head! Clicks Whoa——!!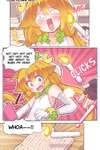 Page 26 Transcriptions
Haaahhhh, I won't let the book be burned!! AH-!!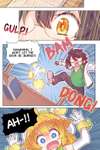 Page 27 Transcriptions
Bam! Whoa, put out the fire quickly! Come out, Fire Fighter ZERO! pssshh——!! Whoa, that scared me to death. Fortunately, only other books were burned……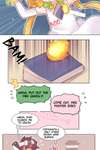 Page 28 Transcriptions
This is bad…… That was the real one!! idiot!!! Silent scream AAAHHH——!!! ashes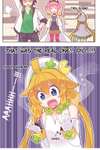 Page 29 Transcriptions
postscript Although the saved manuscripts are used up, I am not panicked at all! Calm! Dong I am the type that the more urgent time is, the more powerful I am! Hmph..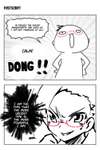 Page 30 Transcriptions
Remember to favorite this comic!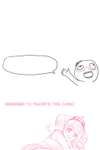 Page 31 Transcriptions