Page 1 Transcriptions
Author/illustrator: Universe King Railway Ch12: Confrontation vs Conflict *sigh* What a pain.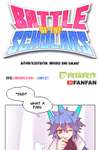 Page 2 Transcriptions
Detailed work like investigation really doesn't suit me. I am more of a "resorting to violence" type... Maybe I should just take her back... sigh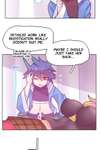 Page 3 Transcriptions
Anyway, let's just take some blood samples with Mr. Blood Sucker. suck suck suck suck Intelligent Blood Sample Collecting Needle — Mr. Blood Sucker (only for home use) A disposable needle that can automatically analyze blood types and even predict your horoscope's luck. However, the quality of it is questionable and the only perk is that it is cheap. Um....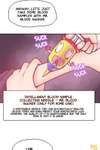 Page 4 Transcriptions
Um.... ?! CLACK! Glasses Boy? What's up?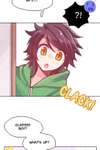 Page 5 Transcriptions
Nervous I left my glasses here... To forget your glasses, what a careless kid. tadah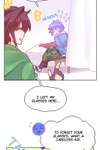 Page 6 Transcriptions
tadah Actually, I am not myopic. But there are some things I just don't want to see... Who cares if you are myopic or not!!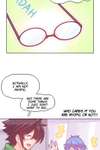 Page 7 Transcriptions
It's all your fault for walking in so suddenly, that Mr. blood sucker is now stuck in my hand! Stop saying unnecessary things! Suck suck! suck suck! Then, I'll be heading off, teacher.
Page 8 Transcriptions
Then, I'll be heading off, teacher. Sure, sure. badump! Get lost! This bloodsucker is too fast, gotta pull it out quickly...! SHIT! Why is this so tight? as expected, nothing cheap is good s s s s Um...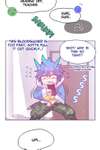 Page 9 Transcriptions
CLACK! what is it now? I also forgot the paint... heh!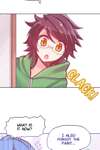 Page 10 Transcriptions
heh! What a careless student! Is there anything else you have forgotten?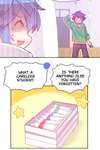 Page 11 Transcriptions
I don't think so. Why have you gone so pale, teacher? It's just that the weather is too hot! It's Nothing to worry about! t r e m b l e t r e m b l e I'll take care of Zhugong. glasses boy, you can go back, don't worry.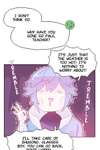 Page 12 Transcriptions
I'll take care of Zhugong. glasses boy, you can go back, don't worry. ...?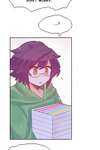 Page 13 Transcriptions
Our class play is the day after tomorrow. Will Zhugong be able to recover in time? Oh Ah! It's Open day the day after tomorrow, right! Yes, yes, no problem. I never even once mentioned Zhugong's name.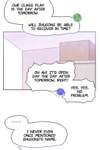 Page 14 Transcriptions
Why do you know it? That's because I am a teacher! Hahahaha! haa To be able to remember students' names is part of the job!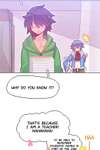 Page 15 Transcriptions
To be able to remember students' names is part of the job! But, if you're a teacher, Why would you think that open house is the day after tomorrow? ding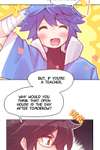 Page 16 Transcriptions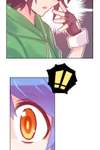 Page 17 Transcriptions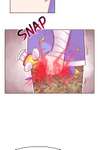 Page 18 Transcriptions
You aren't a teacher at our school... Who are you, really?
Page 19 Transcriptions
tch! aaaahhhh I give up, I give up!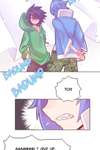 Page 20 Transcriptions
aaaahhhh I give up, I give up! To be honest, I also hate sneaking around like this. wobbles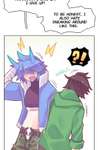 Page 21 Transcriptions
You are very smart, glasses boy. As a reward, I will divulge some information.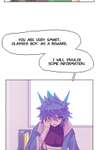 Page 22 Transcriptions
Do you think Zhugong is the only person who is possessed by an 'evil spirit'?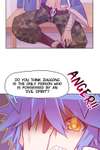 Page 23 Transcriptions
What...?! Is this guy the same as Zhugong...!? unsteady....
Page 24 Transcriptions
I, Bulbu Ruguru only want to finish my mission easy and swiftly. My body... ugh!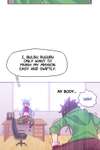 Page 25 Transcriptions
What the hell....! So heavy....! AH!! quake quake quake quake quake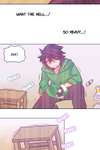 Page 26 Transcriptions
quake quake quake Thump The chair broke by itself...? pant pant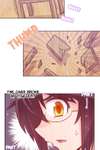 Page 27 Transcriptions
pant I wanted to use a more gentle approach. But oh, glasses boy... you're quite annoying.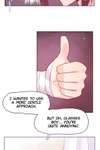 Page 28 Transcriptions
pant pant you have to pay the price for being so annoying. bam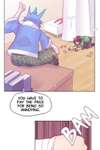 Page 29 Transcriptions
From tomorrow on, you won't have to come to school anymore.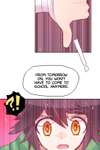 Page 30 Transcriptions
The hospital suits you more!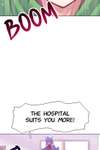 Page 31 Transcriptions
CRACK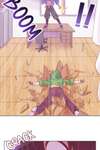 Page 32 Transcriptions
CRACK Now, next— I should just bring Zhugong back.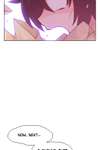 Page 33 Transcriptions
I should just bring Zhugong back. TRIP! THUMP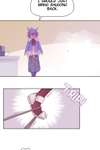 Page 34 Transcriptions
THUMP AHH What...!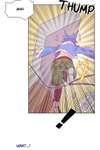 Page 35 Transcriptions
My stethoscope?! when did it get there?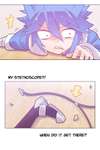 Page 36 Transcriptions
Teacher... How can you leave the stethoscope in a place like this? crunch crunch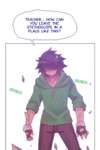 Page 37 Transcriptions
It'll be bad if you trip.
Page 38 Transcriptions
You brat...! rage The counterattack begins! Postcript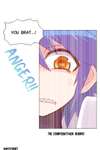 Page 39 Transcriptions
Postcript Once I finished the chapter of the scientist last week, Niuwan passed away. Now I can only draw her in my comics... We had plenty of good memories and a great time in those past two years together! Thank you Nuiwan.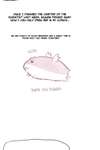 Page 40 Transcriptions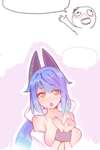 Page 41 Transcriptions