Page 1 Transcriptions
SWISH NO WONDER THIS LITTLE LADY HERE TRIED TO USE SOME TRICKS ON ME . TURNS OUT YOU'RE THE CONSPIRATOR'S LOVER !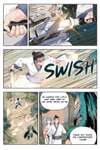 Page 2 Transcriptions
A VICIOUS WOMAN AND A LOWLY THIEF , CLANG WHAT A MATCH .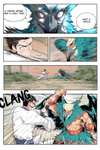 Page 3 Transcriptions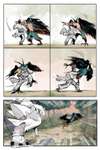 Page 4 Transcriptions
mod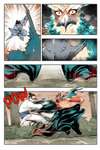 Page 5 Transcriptions
V Cough ! maki M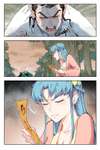 Page 6 Transcriptions
HAHA ! ALTHOUGH I CAN'T FLY , BUT WHEN IT COMES TO A REAL FIGHT YOU'RE STILL JUST A LITTLE CUB ! Ah !!!! SLASH 117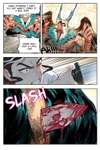 Page 7 Transcriptions
Whir SE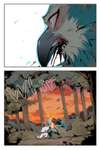 Page 8 Transcriptions
TURNS OUT YOU STILL HAVE ONE TALISMAN LEFT . IF YOU THREW ALL THREE TALISMANS OUT EARLIER , HE WOULD HAVE DEFINITELY DIED ... BUT THIS IS PRETTY GOOD TOO , NOT ONLY DID THE MONSTER GET KILLED , BUT WE ALSO GOT TO FIGHT ALONGSIDE EACH OTHER THIS SOON .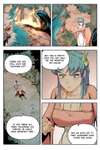 Page 9 Transcriptions
SHE'S JUST A DAUGHTER OF AN OFFICIAL , AND SHE HASN'T JOINED ANY SECT BEFORE . IT'S OKAY NOW , MISS ! YOU'VE DONE WELL . GET READY , AND WE'LL GET GOING . WHY DID THAT HAWK DEMON STILL WANT TO KILL ME AFTER HE FOUND OUT WE WERE FROM THE SAME CLAN ? YET I BROUGHT HER INTO THIS DANGEROUS FIGHT . WHY DID HE STILL WANT TO KILL ME FOR REVENGE WHEN I OBVIOUSLY LET HIM GO ? WHY DID THIS YOUNG MAN RUSH TO SAVE ME WITHOUT A DOUBT , ALTHOUGH HE KNEW ABOUT WHAT I DID ?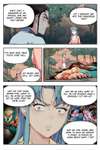 Page 10 Transcriptions
IMPOSSIBLE ! THIS BLACK HAWK DEMON WASN'T BAD SINCE THE BEGINNING , HE JUST GOT TAINTED BY THE HUMAN WORLD ! OH RIGHT ! DON'T HUMAN HAVE THIS SAYING , " EVIL COMMUNICATIONS CORRUPT GOOD MANNERS " ? N IT MUST BE LIKE THIS ! MY DEMON CLAN , HOW COULD WE BE SO EVIL AND CRUEL ? THERE MUST BE SOMETHING WRONG ... www HEY ! HOW LONG WILL IT TAKE TO GET TO THE SECT ?! krw WE JUST HAVE TO CROSS TWO MORE MOUNTAINS ! HUH ?!