Page 1 Transcriptions
SHEEP WN WOLF'S CLOTHING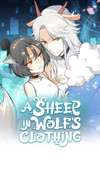 Page 2 Transcriptions
Look, Xiao Baileft this pictureand disappeared. I don't knowwhat it meanseither.

Page 3 Transcriptions
This... Could it be... You cheated on Xiao Bai? So he wants to get a knife to kill you?! I dare you torepeat yourself!!

Page 4 Transcriptions
This uniquedrawing styleis definitelyXiao Bai's. Look, there are mountains, water,a cross, and a sword.I think... Xiao Bai is trying to express: Our relationship is as strong as the mountains and as everlasting as the flowing waters, we will meet again someday.

Page 5 Transcriptions
So, he has probably decided to leave on his own. Xiao Bai isindeed your son. But, Why would Xiao Bai suddenly decide to leave by himself for no reason?