Page 1 Transcriptions
THERE WAS ORIGINALLY NO ELIXIR . A thousand years ago , Kun Lun was overrun with demons ,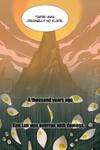 Page 2 Transcriptions
lincinerated their bodies with the Nine Purple Fire , and condensed their souls and life essence into a pill . That
Page 3 Transcriptions
is how the elixir of immortality was created .