Page 1 Transcriptions
SPIRIT SWORD SOVEREIGN SEASON 2
Page 2 Transcriptions
BOOM! Wait! Hold on! You're mistaken, I'M NOT YOUR ENEMY!

Page 3 Transcriptions
I'm here to help you!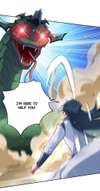 Page 4 Transcriptions
Here, try this! GURGLE~ HISS!
Page 5 Transcriptions
This is the Phoenix Blood Essence Pill! It can heal your wounds in a short time, it is effective even if you're the spirit beast. HISS! GURGLE~ Boom! Swoosh Whoosh

Page 6 Transcriptions
Whoosh Woosh QUICKLY RECOVER

Page 7 Transcriptions
How is it? You felt it, right? I didn't lie to you. Rush I've told you, I'm from the Wildlife Conservation Society, so I'm not gonna hurt you. Then, can you hear me out now? Hiss

Page 8 Transcriptions
Easy. Easy. Others may not know, but I've already known your true identity, otherwise why should I risk my life to save you? Hiss

Page 9 Transcriptions
The pill is not given to you for no reason. I want to make an equal partnership covenant with you. Unlike the other covenants made between masters and servants. In this covenant, we're all equal. FULL Both parties will be like best friends, following and helping each other. It probably won't turn me down! CONFIDENCE

Page 10 Transcriptions
Hey! Anyway I saved your life. Why do you refuse my request?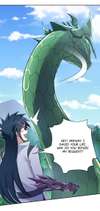 Page 11 Transcriptions
The Great Devouring Spirit Python is a rare spirit beast in the world. It's understandable If It acts arrogantly. But... If I ignore it, those people who coveting its flesh and blood will never let it go.

Page 12 Transcriptions

Page 13 Transcriptions
Hey! Wait a minute! You're probably thinking I'm not sincere enough, don't you? Then I'm going to give you another meeting gift!
Page 14 Transcriptions
Swoosh swish

Page 15 Transcriptions
The Great Devouring Spirit Python feeds on the spiritual power of heaven and earth, but it is difficult to advance by simply devouring the spiritual power of heaven and earth. For you, the spiritual veins are the best source for cultivating.

Page 16 Transcriptions
This yellow-level spiritual vein seed is regarded as my meeting gift. As long as you follow me your whole life, I will definitely not mistreat you. What do you say? Well, in this material world, even the spirit beast can't reject such an offer.

Page 17 Transcriptions
If so, let's sign a covenant! BUZZ BUZZ