Page 1 Transcriptions
SPIRIT SWORD SOVEREIGN SEASON 2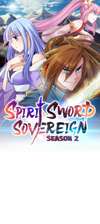 Page 2 Transcriptions

Page 3 Transcriptions
It seems that the disciples of the Qin and the Chang family have been ambushing here for a long time. After dividing the spoils, these corpses are just exposed in the public. Could it be that the corpses are used to deter people? It seems that there are still a lot of people in the mountain who are coveting the Monster Proud Spirit Grass. Let me see what layout they created. There are two people with the realm of Half-Step Heaven Spirit.

Page 4 Transcriptions
This layout, I'm afraid that two people are sent in advance to make an arrangement, others are waiting for the right time to take action... Can't let them obtain the Spirit Grass first! Dark Hiding!

Page 5 Transcriptions
Whoosh SWISH BUZZ

Page 6 Transcriptions
The two sneakily entered the cave. I'm following them to take a look. It's Bengshan Python! Is this their real goal?

Page 7 Transcriptions
After Bengshan Python reaches adulthood, the horn on its head will grow by one foot for every level of cultivation. It seems that the python has the realm of third-level heaven spirit. Can the fifteen of us defeat it?

Page 8 Transcriptions

Page 9 Transcriptions
That's why the two of us have to restrain our breath to enter the cave and form this extremely sharp fifteen-stream sword array. After we finish the last step, No matter what spirit beast it is, all of them will be killed! Keep your voice down! We're gonna be so screwed if it wakes up. I see, the fifteen-stream sword array is extremely powerful. They intended to use this move against the Bengshan Python and get spirit grass. Unfortunately, they don't have a chance to get it done.

Page 10 Transcriptions
CREAK! Bang!

Page 11 Transcriptions
What happened??

Page 12 Transcriptions

Page 13 Transcriptions
Hiss Hiss Oh... Oh no! hissss

Page 14 Transcriptions
Help Aaaaah! The Bengshan Python woke up! hissss
Page 15 Transcriptions
Hahahahaha! Thank you both for cooperating with me to lure the python away from its base.

Page 16 Transcriptions
The Monster Proud Spirit Grass, I'm coming. WHIZ!

Page 17 Transcriptions

Page 18 Transcriptions
Hold on... This is... SWOOSH