Page 1 Transcriptions
SPIRIT SWORD SOVEREIGN SEASON 2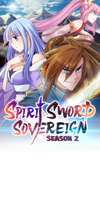 Page 2 Transcriptions
HOW ... HOW IS THIS POSSIBLE ? WHEN DID YOU GET HERE ??? I'M TAKING YOUR SILVER ELBOW PAD . THANKS . TOOT 0 www کیا THIS SILVER ELBOW PAD IS INDEED ONE OF THE ACCESSORIES OF THE VIENTIANE ARMGUARD .

Page 3 Transcriptions
LUO YUN , DON'T GET COCKY ! TEN DAYS LATER , I WILL DEFINITELY MAKE YOU PAY FOR IT AT THE HEAVEN - ASCENDING SWORD COMPETITION !