Page 1 Transcriptions
W ALL THE THINGS I LIKE ABOUT YOU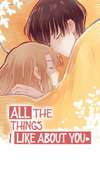 Page 2 Transcriptions
F is a traditional man, through and through, so he rarely says lovey-dovey things like 'I miss you' or 'I love you.' Honey! I'm home! Did you miss me?! F takes those words very seriously, it feels like saying 'I do' at a wedding ceremony. You're heavy. So he basically doesn't talk about love at all.

Page 3 Transcriptions
Give me your luggage. How can you be so nice, honey! I used to feel embarrassed saying that stuff, but after a while I found that I could tease him. Honey, I miss you so much! I seem to love you more and more, what should I do?!

Page 4 Transcriptions
Knock it off. It's obvious that he's very happy. What a bad liar.

Page 5 Transcriptions Page 6 Transcriptions
What is this fruit called? It's a yellow peach. Do you like it? They're so so. F is quite fond of them. So... Can I have your phone number? I'd like to...

Page 7 Transcriptions
'be friends with you' is what that guy said to me at the store! He also gave me his business card and these yellow peaches. He sent you yellow peaches? They're too sour. You didn't expect your wife to have such a day, right? So? Did you give him your number?

Page 8 Transcriptions
No way. I'm afraid my husband will be upset. You're married? Yep, I'm a married woman. Manager XXX of XXX company. Wow, and a manager to boot.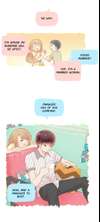 Page 9 Transcriptions
Don't feel jealous. Would I be so childish like that? Hah! I'm going to wash the peaches.
Page 10 Transcriptions
... A Few days later Where did that business card go? What thing? The business card from yellow peaches guy.

Page 11 Transcriptions
I threw it away. I accidentally spilled water on it while clearing the table. Apparently you didn't do any housework! You also 'accidentally' spilled the water... What an evil ambition! One time, we went back to my hometown for New Year's. I helped my mom cook while F chatted with my grandma in the yard. I heard him teaching my grandma how to speak English.

Page 12 Transcriptions
'I love you' means 'wo ai ni'. My grandma's getting older and experiencing some cognitive changes. In my family, only F can communicate with her. We all think it's amazing. Slow down, what are you talking about? I... Love... You... Wo ai ni. I get it now!
Page 13 Transcriptions
Grandma, I heard you can speak English? Little F taught me. Grandma, do you remember how to say 'I love you' in English?

Page 14 Transcriptions
I... I... I... I gubi you!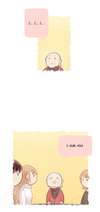 Page 15 Transcriptions
Haha, that's right, mom. Gubi, gubigubi. hahaha. It's so cold, I better hurry back inside after I get some water.
Page 16 Transcriptions
Huh? The light in grandma's room is still on. Did she forget to turn off the lights?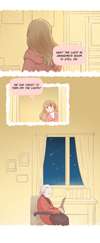 Page 17 Transcriptions
My old man, 'I gubi you.'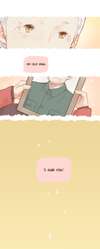 Page 18 Transcriptions
...Grandma is so lonely.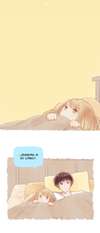 Page 19 Transcriptions
We should come back to spend more time with her. Those who aren't familiar with F think that he's indifferent and taciturn like a stone. But I'm the only one who knows the truth. He's very gentle, the most gentle man I have ever met in the world.