Page 1 Transcriptions
W ALL THE THINGS I LIKE ABOUT YOU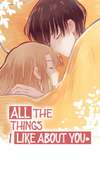 Page 2 Transcriptions

Page 3 Transcriptions
Really? I'm Qiao Yi. Your mom just told me that you learned the saxophone when you were a child. Push Um. This is my husband, F.

Page 4 Transcriptions
People gave him the nickname "Ice Man". F12 years old ...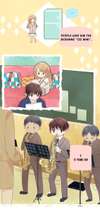 Page 5 Transcriptions
F, let's hang out after practice. Let's go together. F, maybe we could... Or do you have other places you want to go?
Page 6 Transcriptions
Haha——Your mom also said that your teacher thought you weren't sociable. As a result, you'd say—— ... ...

Page 7 Transcriptions
Playing saxophone keeps me too busy to talk. hahahahaha! Haha!

Page 8 Transcriptions
Your mom should let you take ballet classes, so you'd have no excuse not to talk. hahaha! F, the little prince of ballet. While f is a man of few words, ... ...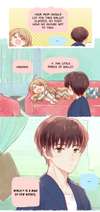 Page 9 Transcriptions
He doesn't hesitate to speak out when he's making fun of me. Honey!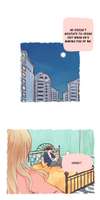 Page 10 Transcriptions
Do you know what day tomorrow is? What date? It marks our 587th wedding day! Don't you think we should do something to celebrate?

Page 11 Transcriptions
Only pig breeders keep track of how long they've been raising their pigs. What? ...Pig? Pfft. Stop being coy and tell me exactly what you want.

Page 12 Transcriptions
Who wants. HUMPH! Give me a little face, Then you can celebrate for me. Celebrate what?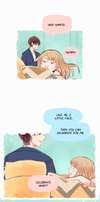 Page 13 Transcriptions
Celebrating me... 587 days of successfully raising a pig. There's only one pig, and that's you! Docile piggy, I'll bring you something yummy from my business trip. %¥&*...

Page 14 Transcriptions
F has been away on business for days without sending a message. Ladies, how do you usually text-tease your husbands?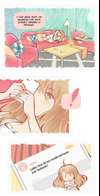 Page 15 Transcriptions
Tap Japan F, there's one meeting left. Before the end of this business trip. Ding dong Hot lonely stray kitties in your area, satisfaction guarantee What happened, f? Tap Tap Tap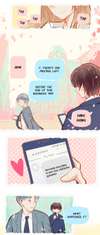 Page 16 Transcriptions
! RING RING RING RING RING RING Hello, f? Do you really have nothing to do at home?

Page 17 Transcriptions
What made you think it was me? Only you would do such a boring thing. HMM ...I'll be back the day after tomorrow. So early!
Page 18 Transcriptions
Aren't you coming back next week? A sudden change. Two weeks later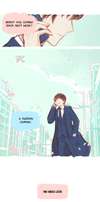 Page 19 Transcriptions
The house is nicely decorated, F. It's time to eat. No need to be polite, sit anywhere you want. The last time we went to Japan for a business trip, F rushed home right after finishing our meetings. You're going back so early? Aren't you going to join the celebration banquet? I need to go home to take care of my cat.

Page 20 Transcriptions
Oh, right~ Where's your cat? Cat?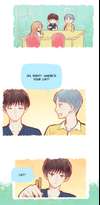 Page 21 Transcriptions
She's timid and shy. Although F enjoys seeing me blush with embarrassment, ...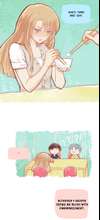 Page 22 Transcriptions
He's still the one who loves me the most in the world.

Page 23 Transcriptions
My company has assigned me a project in which we recreate people's youth nostalgia. Let me ask everyone in the group how they are. How is the person you liked when you were a student doing now? Qiao Yi Ding Ding Ding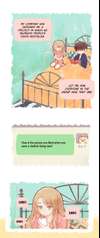 Page 24 Transcriptions
Huoshan He became the father of someone's kid. V Married and had kids. Junyan During my school days, I only loved mock tests. HEHE. F rarely responds to group chats. Buzz It's bedtime, good night. Um. Tock Tick

Page 25 Transcriptions
Yesterday's message... The meeting is finally over, right?

Page 26 Transcriptions
How is the person you liked when you were a student doing now? Qiao Yi He became the father of someone's child.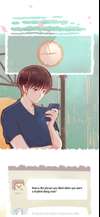 Page 27 Transcriptions
Haha! You're an Ice Man? No... you're... f.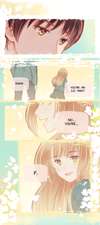 Page 28 Transcriptions