Page 1 Transcriptions
Localization produced by INKR The Demon Goddess is My Maid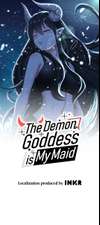 Page 2 Transcriptions
Okay, what is she trying to do again?! Eyy! Lean closer Nothing again? What's going on with this guy's presence? sniff Sometimes, he smells like a human... Other times, I can sense the demonic presence on him...

Page 3 Transcriptions
E-erm... What's going on, man? Oh, sorry. I smelled some sweat odor when I was watching the movie just now. I wanted to check if it was coming from you.

Page 4 Transcriptions
Eh? That's it? so the sweaty odor was from me? I don't like to walk with sweaty guys.