Page 1 Transcriptions
Localization produced by INKR The Demon Goddess is My Maid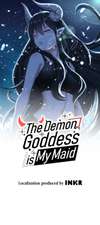 Page 2 Transcriptions
Oh, God! Why am I single?! Oh, god! I'm already 18 years old, but never have I ever been wooed by a woman! ...... Oh, god! Please... Ah... Ahh ahh ah! Ahhhhhh! Hey, god! I mean, I want to be wooed instead of being chased around like this! ......
Page 3 Transcriptions
ten hours ago... School What should I do? Hey, xiaobai! We've been looking for you! Bad friend A They are my loser friends. you can refer to them as "Bad Friend A" and "Bad friend B". Bad Friend B We didn't see you in the classroom or canteen. I came up for a breather. What's up?

Page 4 Transcriptions
We thought you were stressed out because you are still single even though you are 18 years old. hit his sore spot Do you wanna get beaten up?! But, don't worry! We've come up with a Plan to get you out of the single life! Serious mode on. shock

Page 5 Transcriptions
Alright, it's settled then! See you tonight at the school building! Whoosh~ Abandoned school building rustle rustle rustle~ after 12 o'clock... Bad Friend A: Come on, what era are we living in? Why do you still believe these?! Anyway, we will accompany you. Xiaobai: Erm... won't you bump into ghosts or something? Bad friend A: have you heard about the rumour of the abandoned building behind the school? Bad friend B: Rumour has it that if one is bold enough to walk around the abandoned building, it will bring them romantic luck!

Page 6 Transcriptions
d*mN it! Hmm! Argh! They tricked me! Whoosh~~~ Ah! Ah! rustle rustle rustle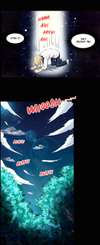 Page 7 Transcriptions
it's chilly... If i knew it would be like this, I wouldn't have come... I'd better hurry back and find those two rascals tomorrow!

Page 8 Transcriptions
Woah! Shoosh! KOONG! Woah! Whoosh! Ah! it's a ghost! WOAH! Ah! Ah! BOOM! Whoosh! kick! Tumbling~~ Ah! Ouch! Ouch! Ouch!

Page 9 Transcriptions
Where is this place? Am I lost? Oh, sounds of flowing water? Is there any water source near here? I didn't know such a beautiful place actually existed in the mountains behind the school. Whoosh Whoosh plop

Page 10 Transcriptions
WhooSH! bubbling Woah!

Page 11 Transcriptions
Lethal Weapons! PFFT No more regrets~Faints~

Page 12 Transcriptions
Hey! Wake up! Wake up! Bast*rd! Have you woken up yet? Get ready to die once you are awake! retreats retreats retreats Gather Ah! What's that thin and long looking thing?! What's going on? Seems like a girl is calling for me... Don't tell me I'm no longer single? W-wait a minute! I didn't see anything at all! I am going to obliterate your memory! No more regrets~Faints~ Ah!

Page 13 Transcriptions
Hold... hold on... Hey, that's superior strength! It's Superior strength!! Ah!

Page 14 Transcriptions
COLLIDEs Woah! Cough KOONG Ouch Ow Owww Huff~ Puff~ It's so soft and warm! It's so blissful~ WHOOSH Oh oh oh!

Page 15 Transcriptions
Eh! Superior strength! It's superior strength! Push!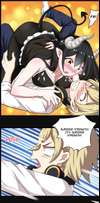 Page 16 Transcriptions
Puke— AH ah ah! Uh... Can you calm down? Gets up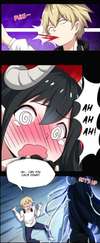 Page 17 Transcriptions
I'm gonna kill you today! Woah! I didn't mean it! How did things turn out like this?! This is not what I wanted! Ah~ Bast*rd! Stop running! Boom!

Page 18 Transcriptions
快 ! Kuaikan Comics