Page 1 Transcriptions
Localization produced by INKR The Demon Goddess is My Maid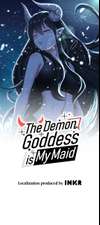 Page 2 Transcriptions
A weird feeling? Eyyy! you are so lewd! pit-a-patpit-a-pat Shiyan, wait for me!

Page 3 Transcriptions
Hey! Watch where you're going! Sorry, I'm so sorry! I apologize!

Page 4 Transcriptions
Shiyan... That person just left the school... You should be able to catch up with her now if you chase after her...

Page 5 Transcriptions
B*tch! I only wooed you because you got the looks... Who the hell do you think are?! eh? Sir, please calm down. It's like you are a totally different person now...