Page 1 Transcriptions
Again...? WHOOSH

Page 2 Transcriptions
No.30 of Team SkyDrift scores, 3 points! Team SkyDrift WTF! Are they going to lose with 0 score?! Team Sound of Silence Well~ Such a competition is still too intense for middle school students. Give the kids a chance~ It's not too bad for these kids to play until now! Yeah. Fang and his team don't give them a chance at all...

Page 3 Transcriptions
Didn't we say that we have to go all out to finish this game? I can't do it anymore. I want to forfeit... I really can't run anymore. Get yourself together! We are the three musketeers! We do not give up! You were this fearless when I first met you at the court. The bosses, professional players and friendly matches... To you, there's nothing more important than winning the game.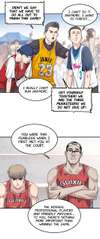 Page 4 Transcriptions
Remember how we played against the 5th class last time? Let's use that tactic later! Please trust me one more time, alright? Pass the ball to me! ......