Page 1 Transcriptions
Come on! With one minute to go, the Shenzhen Navigator is currently 2 points ahead. Jones! MVP! Coach Xuehai Lin has used up his last timeout. Looks like this is their final pitch. Instructor Zhang, what do you think the Sharks should do next? 4th Quarter Binhai Sharks tball Professional League Navigator

Page 2 Transcriptions
It still depends on Jones ISO plays. The first half of the game has shown that Jones has this ability. Indeed, as Jones' debut in China, he has scored 36 points so far. Good job! Nice! Binhai fans can see this level of performance just at their doorstep! This is definitely a performance that worth the price!

Page 3 Transcriptions
Jones! Binhai Sharks come on~! Binhai Sharks!! Will win! MVP! Jiang, tell him I want to replace him! What?! But, coach Lin... Director Chen had instructed regarding this. The audiences are all here for Jones, if you replace him... I'm afraid I can't explain it to him... This is not a concert! What I need to do now is to win the game!

Page 4 Transcriptions
Peng Wang, you're done warming up, right? Get ready to play! Yes, coach! Coach Lin... You know Director Chen... please reconsider... Keep an eye on the number 35! Timeout is up! Sharks 4th Quarter
Page 5 Transcriptions
Eh? The Binhai team actually replaced Jones with Peng Wang! This should be due to tactical considerations. Jones focuses on offense but not defense. And he is not familiar with the tactics. Peng Wang not only is good at three-points, but also has a very good defense. But this change seems to have caused dissatisfaction among the audience. Boo~ Boo~ Boo~ Xuehai Lin! Let Jones play!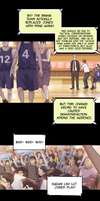 Page 6 Transcriptions
Xuehai Lin! Get lost! We want to see Jones! Refund! Refund! Refund! Xuehai Lin used his most commonly used line-up of '1 Big 4 Small'. This line-up had won 15 consecutive victories before Jones came. Between winning and pleasing the audience, Xuehai Lin chose the former without hesitation. Director Chen! Coach Lin just wants him to rest. Don't worry, he will be up soon!