Page 1 Transcriptions
Huff~

Page 2 Transcriptions
...... This is what you wanted to tell me today? Twist tightly
Page 3 Transcriptions
Dad, the last shot should've been made by Yi Geng!

Page 4 Transcriptions
This is a chart of various statistics on Yi Geng from this season that I compiled. Yi Geng's average is 25+10 per game this season, which is in the dominant level of the league. Since the quarterfinals, the three-point shooting rate has been around 37%, and the two-point shooting rate has reached 65%. In the entire league, those who can achieve this shooting percentage can be counted on one hand.

Page 5 Transcriptions
I also counted, when Yi Geng was on the court, our team could beat the opponent by an average of 15 points. When he is not there, we can only win by 3.7 points. For example, the last game against Nanyang University... SLAM ——

Page 6 Transcriptions
What are you looking at? I send you to college for you to be a mindless worker like me? I have you study finance is for you to make big money in the market! Not all these nonsense! Regardless of whether Yi Geng intended it or not, he did make the right choice!

Page 7 Transcriptions
The more you talk, the more nonsense you're sprouting! Get out! Get out of here!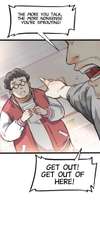 Page 8 Transcriptions
......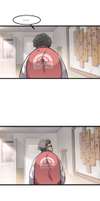 Page 9 Transcriptions
Why are you still not leaving? Dad! You taught Yi Geng all by yourself, a bit by a bit. Didn't you say, "A good team will not abandon anyone"! The photos on the iron-blood floor are the highest honor for every player on the Binhai University basketball team, right? ......

Page 10 Transcriptions
Not everyone has a chance to win the championship, but, As long as you can become a member on the iron-blood floor, then it brings meaning to the time spent on basketball! Yi Geng, he once fought hard for the honor of the school. You really want to take these from his life ?

Page 11 Transcriptions
Do you really want to abandon him?

Page 12 Transcriptions
Okay... As long as he can apologize... That brat. He checkmated me... SLAM tap tap tap tap

Page 13 Transcriptions
Huh? Isn't that Yi Geng? Why is he in the corner? Shoo, shoo, shoo, ignore him. He's gonna be expelled from the school team.

Page 14 Transcriptions
Don't play ball with him. You might not be able to enter the school team in the future. ......

Page 15 Transcriptions
I said earlier don't bring him along. ...... How could that be blocked? I even created a gap for you. Let's play by ourselves~ Really shouldn't have brought the cripple one to play. Don't bring him along to play, don't bring him along to play!

Page 16 Transcriptions
Heya, Old-Geng! Pull~ Hurry, hurry! Come with me! Huh? You'll have to give me a big thanks this time! You're paying for the BBQ tonight!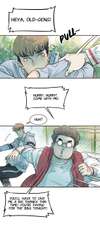 Page 17 Transcriptions
Swat I've worked hard to get you an opportunity to return to the school team.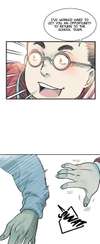 Page 18 Transcriptions
Old-Geng? Turns, walks away Hey! W-Wait! Don't leave! Just apologize to my dad and you can return to the team! At that time, you'll say that you faced the three-person defense because of Lei Yang's shoulder injury.

Page 19 Transcriptions
jump higher than them! You are obviously better than others, you will definitely become a star in the future! I... I definitely will... Delisting from the school team for a trivial matter is not worth it! I will Are you listening to me? slam

Page 20 Transcriptions
If you're delisted now, you won't be able to get a recommendation letter! Even if you don't care about the iron-blooded floor, what about being a professional player? That's your dream you've been working for! Why did you give up like this? ! You have better physical conditions and talents than others, What the hell are you thinking? ! If it's me, no matter how dissatisfied I am at my dad, I will definitely keep on playing...

Page 21 Transcriptions
Huh? Let's go. While I haven't changed my mind... Huh? Haha, that's the spirit! The Binhai genius, the king is back!

Page 22 Transcriptions
Old-Geng, when you apologize, don't mind what my dad says.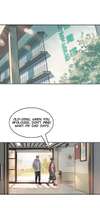 Page 23 Transcriptions
I know my dad the best— He looks very strict, but has as a soft heart...

Page 24 Transcriptions
Last shot! You can tell Little-Jiang in advance what kind of drink you want to drink! Lei Yang, you're the captain now, so you need to play host! Yes, yes, if I had a say, We should celebrate when the brat Yi Geng gets kicked out from the team!

Page 25 Transcriptions
Don't be humble, Lei Yang, thanks to your last play. We can win with a wonderful pass! I can imagine that if it was Yi Geng at that time, he would definitely force a dunk again... Yup, how can someone who has only himself in his heart be the captain... Huh, where is he? I told him we'll be here soon...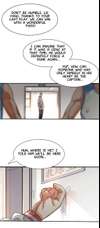 Page 26 Transcriptions
Old-Geng, wait a moment, I'll call my dad!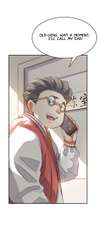 Page 27 Transcriptions
?! Yo, who's this? Isn't this our Great Captain Geng? What? Came back to get the gold medal?

Page 28 Transcriptions
Yi Geng, Little-Jiang and the others are joking, don't mind them! Old-Geng, Don't be impulsive!

Page 29 Transcriptions
! Kuaikan Comics