Page 1 Transcriptions
YES , YOU'VE BEEN HAVING BAD LUCK THIS WHOLE YEAR BECAUSE OF THE SAME EVIL SPIRIT . 13 S - SO ... THAT EVIL SPIRIT IS RESPONSIBLE FOR MY FRIEND'S DEATH ?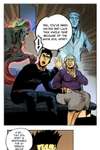 Page 2 Transcriptions
FOR MY FRIEND'S DEATH ? FOR NOW , LET NOVA TELL YOU THE WHOLE STORY . ALDI , WE NEVER RESENTED YOU . WE ALL KNOW THIS IS NOT YOUR FAULT ...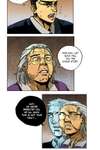 Page 3 Transcriptions
AND I'M TRULY SORRY THAT I CRASHED YOUR NEW CAR ... EVERYTHING WAS FINE WHEN I DROVE YOUR CAR , ON MY WAY OUT OF THE PARKING LOT .